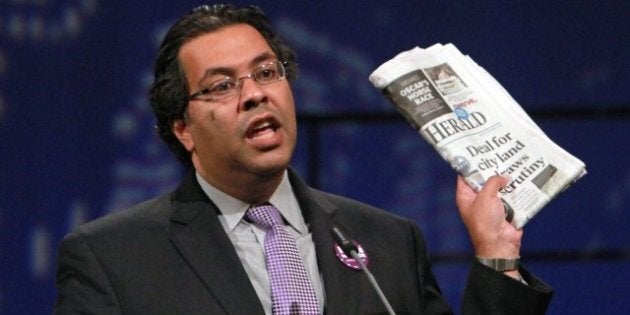 Calgary Mayor Naheed Nenshi had some harsh words for Municipal Affairs Minister Doug Griffiths this weekend over the province's handling of future plans for Calgary's growth.
Nenshi complained that the province has failed to take action on the Calgary Metropolitan Plan -- a master plan created by area municipalities to help guide decisions about future transit, roads and water in the region.
The plan outlines the need for logical development, to ensure infrastructure is not built in a haphazard or excessively expensive fashion. The plan is meant to govern the next 60 years of growth in the region spanning from Banff to Strathmore and from Irricana to Nanton. Fourteen municipalities are part of the plan, while three rural districts continue to hold out.
However, the province is refusing to cooperate, says Nenshi.
Story continues after slideshow
"I'm very frustrated," Metro Calgary reports Nenshi as saying.
"When I hear the minister and the premier start talking about items we thought we were negotiating, and laying down the laws so the city is the farm team, and to be told what its going to be, this is a big problem.... we need a little more political leadership from the province on this -- and that's me choosing my words carefully."
Minister Griffiths shot back in an interview with the Herald over the weekend.
Griffiths told the Herald there has been work done to convince the three rural districts who did not originally sign on to come back to the planning table. As well, the province is willing to pay for a mediator to help work things out.
"I can understand the mayor (Nenshi) trying to influence the province to legislate this plan, simply because the mayor and Calgary have everything to gain from it," Spilak said.
"But in the case of rural municipalities that are surrounding Calgary, we have everything to lose."
Griffiths added that Nenshi has not called him in months and prefers to pick his battles through the media.
"He just needs to get it done because he's never wrong. We don't operate that way."
This is not the first time the mayor and minister have traded words over deals between the province and the city.
"We've got to sort that out."
Griffiths countered, saying he hears similar sentiment from rural municipalities.