The 85-year-old pontiff announced today that he no longer has the mind or body strength to fulfill the role and will resign February 28th. This is the first time a Pope has resigned in 600 years.
Miller said Benedict's style was markedly different from his larger-than-life predecessor, Pope John Paul II.
"Pope Benedict was an intellectual in many ways and I think his legacy will probably be in his writings less than in his gestures," Miller said. "With Pope John Paul II, he was a man of great gesture and he was a much more vigorous man when he assumed the papacy. Pope Benedict has been more reflective, in a certain sense."
Members of the congregation gathered for morning mass at the Holy Rosary Cathedral in downtown Vancouver say they certainly didn't anticipate Benedict's move and they praised his leadership of the world's 1.2 billion Catholics.
"Well, it's a profound surprise because he is an exceptional Pope, and he'll be sorely missed," one member told CBC News as she heading into the early morning mass.
"I feel very sad because to me he was a very holy man and he did a lot for our church and I always looked up to him," said another.
Others felt Benedict is stepping aside in order to make way for a younger leader that could help revitalize the church.
"We're in a very media conscious world now, I think the Holy Father might have felt that he wanted the papacy to show vigour."
The Archdiocese of Vancouver is expected comment again later today.
Difficult tenure as Pope
Over at UBC's Regent College of Theology and Culture John Stackhouse says Benedict was frequently forced to defend himself and the church during his tenure.
"It's probably been a pretty unhappy papacy for him," said Stackhouse.
"This Pope brings an awful lot of baggage, not always behaving properly in regard to sexual abuse when he was an officer of the church back in Germany and as a Pope who has stood as a thwart against virtually every liberalizing tendency in the church."
At least one Canadian cardinal has been mentioned as possible successor, along with several other cardinals from other non-European countries.
But Stackhouse says it was a big step for the Cardinals to elect non-Italians recently, and it would be another major step to elect a non-European.
- Could a Canadian become the next pope?
- Pope's home country of Germany reacts to resignation
- Catholics worldwide react to resignation of Pope Benedict XVI
- Pope Benedict's papacy in pictures
- AUDIO: Listen to Pope Benedict reading his statement (in Latin)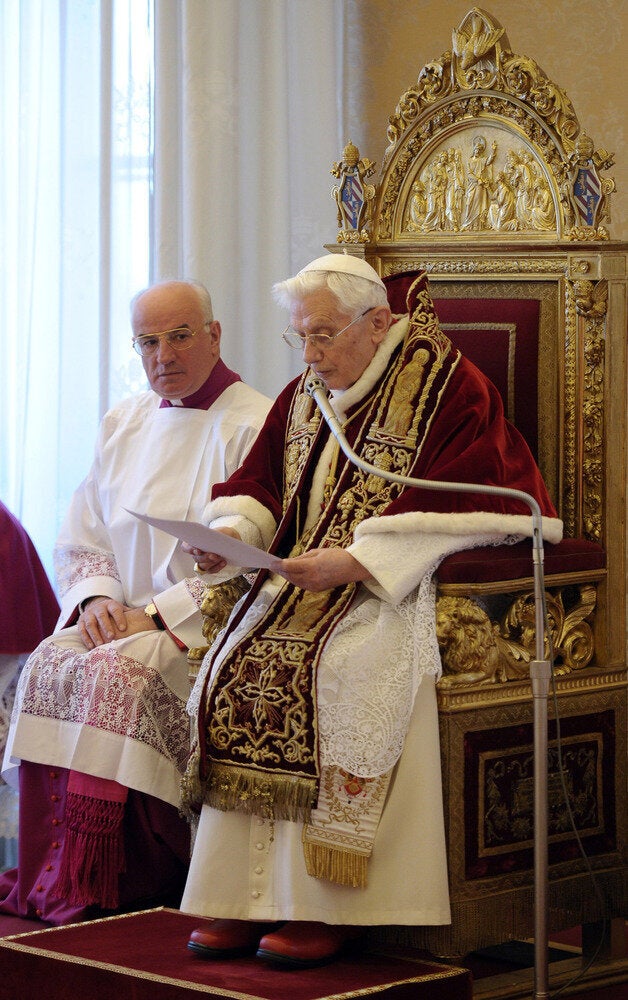 Pope Benedict XVI Resigns