 The singer posted a short note on the Pontiff's decision on her site today approving the move.
"I would like to congratulate Pope Benedict on his wise decision to retire before the very worst of what has been going on is discovered," O'Connor wrote. "I appreciate his alluding to some of it in his statement and assure him The Most High forgives those who can faithfully say they did wrong."
Pope Benedict XVI made the announcement official today with this statement available on Vatican Radio. According to CTV News and numerous sources the Pope cited that "in today's world, subject to so many rapid changes and shaken by questions of deep relevance for the life of faith," his deteriorating health made him incapable of continuing as Pope.
The Roman Catholic Church has been rocked by a steady stream of priests charged in child sex abuse cases internationally, something O'Connor has repeatedly spoken out on in the past dating back to her infamous "Saturday Night Live" performance in 1992 when she ripped up a photo of the late Pope John Paul II and said "fight the real enemy" in reference to child abuse. In 2010 Pope Benedict XVI issued an apology to the victims of sex abuses over the decades.
In a 2010 interview with The Guardian O'Connor once again ripped the church for their stance.
"You can go back centuries, but the way they've behaved just in the last 20 years, over this issue of sexual abuse, shows they don't give a shit," she said. "They feel untouchable. And to me it seems they don't believe in God at all. Because if you did believe you couldn't stand in front of that spirit covering up and moving priests and doctoring reports to psychiatrists and not telling them there was a suspicion of abuse, you just couldn't do that." In the same interview she also described the Vatican as a "nest of devils and haven for criminals."
"The church had been brought into dreadful disrepute by lies and blasphemies against The Holy Spirit," O'Connor continued in the statement. "Benedict's greatest achievement is this act of retiring. There is a chance now for the church to be rebuilt and made fit to house The Holy Spirit."
Pope Benedict XVI — who became Pope in 2005 — is the first to resign in over 600 years.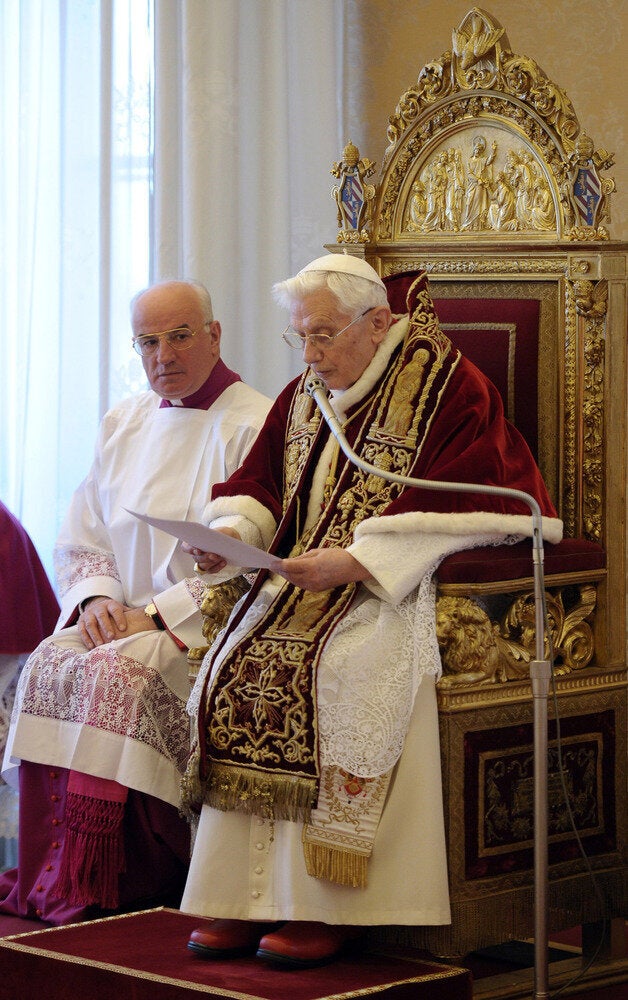 Pope Benedict XVI Resigns