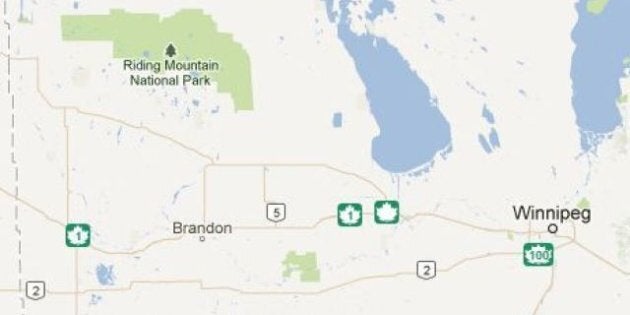 WASKADA, Man. - Nine-year-old Dawson Pentecost was hanging out with his two closest friends, buddies on his Manitoba hockey team, when they asked him if he wanted to go for a plane ride with their dad.
Dawson had never been on a plane before and he phoned his own father to make sure it was OK.
Dave Pentecost knew the pilot well. Darren Spence, was an experienced crop-dusting pilot in the small town of Waskada and if he was going to trust his son with anyone in the air, it would be Spence.
But later Sunday afternoon, Pentecost, a construction worker and volunteer firefighter, got a message on his pager that a plane had gone down. He rushed out on snowmobile to a field outside of town and was one of the first to find the wreckage.
He fell to his knees and cried. Everyone on board the plane — Dawson, his friends Gage, 10, and Logan, 9, and their dad, Spence — was dead.
When Pentecost got himself together, he called his wife.
"The plane was in pieces — nothing left," said Pentecost's oldest child, 15-year old Talis Taylor-Meszaros.
The teen said Monday his parents are so distraught by his brother's death, they have asked him to act as family spokesperson and talk about what happened, and how they don't blame the pilot.
"It's not his fault," said Talis. "It wasn't Darren who did it. It was totally the plane's fault ... He'd never do anything, especially with his kids there and especially with someone else's kid there."
Investigators confirmed the six-seater Cessna 210 left a private airstrip near Waskada on Sunday and was scheduled to fly 110 kilometres northeast to Brandon.
When the plane's emergency beacon went off, a military search-and-rescue plane from Winnipeg was dispatched to the crash site about five kilometres from the same airstrip. A crew parachuted down, but there was no one to save.
Peter Hildebrand, regional manager for the Transportation Safety Board, said it wasn't yet clear why the plane crashed.
The single-engine plane was so severely damaged that investigators couldn't determine if its landing gear was down, he said.
Investigators were looking into both the mechanics of the plane and the weather. Hildebrand said there were low clouds, some fog and snow.
He said investigators were expected to be at the site again Tuesday.
"There's no question. It's not pilot error," said Terry Linto, one of Spence's close friends. "It's got to be mechanical."
He stressed that Spence always put safety first. The 37-year-old Spence grew up flying with his family. His father, Edward, was a spray pilot for about 50 years.
The elder Spence recently had a stroke, said Linto, and relatives are worried that the death of his only son and two grandsons will affect his health.
Linto said Spence's passion for flying was matched by his love for his children. He said the single dad raised his boys and also had a young daughter at home. "You wouldn't have found a better father and more giving person than Darren."
Spence built his boys their own dirt-bike racing track on the farm, drove them to hockey practice and, on some weekends, took them up in the air for a ride.
"After a weekend, it was a treat to take the kids flying and they would just go and look over the countryside," Linto said.
Linto said Spence had a quirky sense of humour and a signature smile. He would often fly from his rural property and land at Linto's farm near Brandon, Man. They'd sit and chat about crops, kids and work.
Spence also had a gravel, sand and construction business.
Linto's youngest boy, 18-year old Ryan, said the two families often hung out. He got Gage and Logan hooked on dirt bikes. And Spence convinced him that he wanted to be a pilot.
"I've always wanted to fly, ever since I met him. He made it look so fun ... he was supposed to come and take me up in the last couple weeks," the teen said, bursting into tears.
Waskada Mayor Gary Williams said people in the town of about 200 are devastated. Everyone knew Spence. All three boys were students at the local school.
"It is just about the worst news you could ever imagine," said Williams. "They are people from our community and it is just a real tragedy. It is devastating."
He said residents will do what they can to help everyone cope. Counsellors were also brought into the school to help students deal with the deaths of their young friends.
"It is a small school and to lose three students is a shock."
— By Chris Purdy and John Cotter in Edmonton