DildoMaker
It's the sharpener you never want to see in your kid's classroom.
Meet the DildoMaker: one part shape-maker, one part making everything in our kitchens resemble a penis. The DildoMaker, a spin-off of the pencil sharpener invented by Raymond Loewy in 1933, offers us a modern and sexual take on everything we thought we knew about sharp objects, according to TrendHunter.com.
"Playing around with the cliché: Sex sales [sic], the Dildomaker's purpose is to provide the users what they really want: pleasure and moreover, sexual pleasure," says the product's website.
And no, this isn't about sharpening a piece of rubber and creating a DIY dildo, but rather taking everyday objects and food like carrots, ice cubes and even candles, and turning them into manufactured products in which to find pleasure. And according to a previous report, the DildoMaker at this point is still a concept and is not going into production anytime soon. So sadly, we may never get those penis-shaped French fries.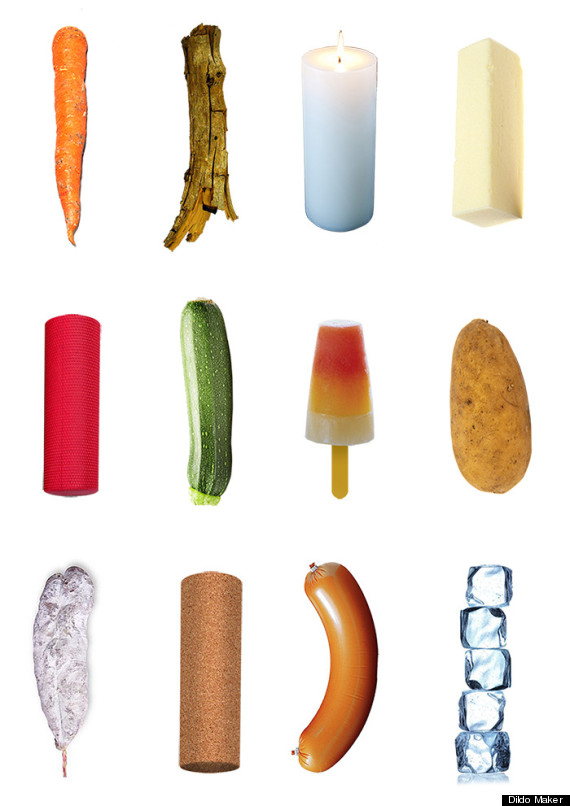 But even with the day of love behind us, turns out more Canadians have been buying dildos and other related sex toys lately. In Edmonton, one report found that sex toy sales were up 15 per cent during October's NHL lockout. But let's not give hockey all the credit. Another report found changing consumer spending trends meant more people were dealing with a bad economy and finding other ways to keep themselves occupied.
And as appetizing and modern these fake dildos may look, not every object is safe for actual sexual use. Foods — though potentially a fun addition during foreplay — can lead to skin irritation, infections or a pH imbalance when placed in the vagina, according to Gurl.com.
So, even if you can't get your own DildoMaker, you can still get your own dildo...and other sex toys. Check out our sex toy shopping guide:
Sexy Gifts For The Bedroom