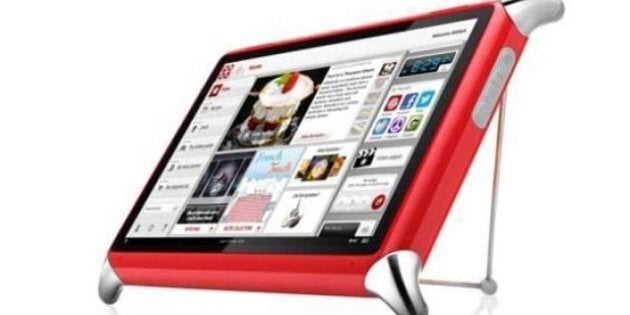 Each week, the Huffington Post Canada's Living team will try out something that has sparked our curiosity, and as long as we live to tell the tale, we'll let you know all about it.
Test Drive Subject:QOOQ tablet, "designed for the kitchen"
What It Is: A digital device created specifically for the purposes of cooking, along with meal planning, budgeting for weekly groceries and perusing new recipes — with a few other bells and whistles thrown in for fun
Trying It Out: I don't know about you, but I've always been a bit nervous about the prospect of bringing electronics into the kitchen. Not because of their usefulness — I get pretty much every recipe I make from sites like CookingLight.com or apps like Epicurious — but because of the potential for completely ruining my iPad.
Enter QOOQ, the tablet that's being promoted as a one-stop-shop for all things cooking. As its promotional video (below) shows, the tablet can withstand spills and heat, thanks in part to its raised platform and its wipeable screen. While much to my surprise, I didn't in fact drop any wet ingredients on the tablet while using it, I did have a chance to eliminate my sticky fingerprints from the screen, and happily discovered they came off with ease.
But what did I use it for, you wonder? Well, not nearly as much as its capable of, but during my trial period with the tablet, I searched through hundreds of recipes, cooked a couple of them, made myself a grocery list and started making what could be my favourite element of the device — a weekly meal plan.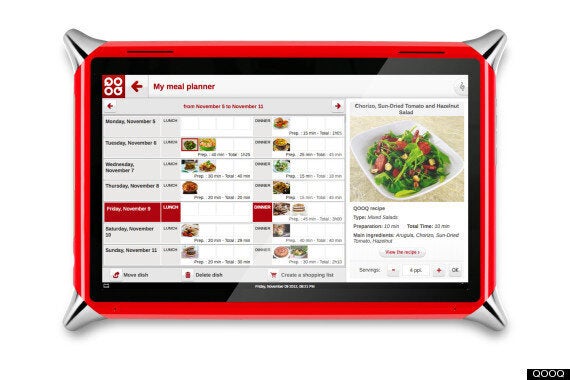 As I mentioned, my cookbooks are growing a thick layer of dust thanks to all the recipes I'm printing from the online world, so it only makes sense to have something I can actually use in the kitchen that brings these together. In addition to QOOQ's database with thousands of recipes, there's also an Internet option, so you can visit any recipe website you so choose.
Those websites, however, won't have the special features included in the QOOQ recipes, like a quick click to figure out the appropriate number of servings (and therefore the ingredients required) for what you're making, a video that demonstrates some of the tougher steps, and heck, even a built-in timer if the one on your oven annoys you.
There's also a multitude of options in terms of how to choose your meal, including everything from the amount of time it takes to prepare to approximately how much the meal will cost based on the ingredients. And that meal plan I mentioned? It's basically my dream come true, because as you scroll through the options, you can pick and choose when you might want to eat that meal — and put it into a spreadsheet, planning out your whole week (complete with prep times) in one fell swoop.
While QOOQ bills itself as sharing features with other tablets (weather information, for example, the ability to watch movies or access to that wild world of the Internet), I wouldn't advise using it as your primarily portable device. The legs make it a bit bulky and typing isn't the simplest task — it can take up to three taps to get a letter to appear on-screen.
And besides, these are all just extras on what is essentially a pretty awesome digital cookbook. If what you're looking for is a tablet to use in the kitchen, then let the QOOQ do what it does best, and leave the other functions to electronics better suited to the games, the surfing and the viewing.
Another feature I loved was the "send by e-mail" button, which sends your grocery list to your phone to make sure you know what you're shopping for. This requires a little bit of preparation in the morning if you're planning to, say, do your shopping on your way home from work, but it's well worth it.
I also would advise against getting caught up in too many of the tiny amenities this tablet has on offer. As time goes along, perhaps I will want to use it to listen to the radio through it, or organize my shopping list by grocery aisle, but as the tool I'm leaning on to increase how often I cook (and improve my skills, for that matter), stick to the basics. You could find, as I did, it means better organization in the kitchen, and yes, a fun little toy to show off to your friends.
ALSO: Other things the Huffington Post Canada Living team has tested: