Attention Edmonton: If you happen to cross a tiger wandering the aisles of the grocery store, or trying to make a deposit at the bank, you may want to alert the authorities.
Edmonton Police are on the hunt for the thief who stole McNally High School's large, orange tiger mascot costume last year and is currently parading it around town.
"Roary" was last seen at a Halloween party in November, before going missing. Police thought they may never see the tiger again, until the @WheresRoary_ Twitter account popped up last month, with pictures of the mascot travelling the city; enjoying bus rides, trips to the grocery story and even the occasional bong hit.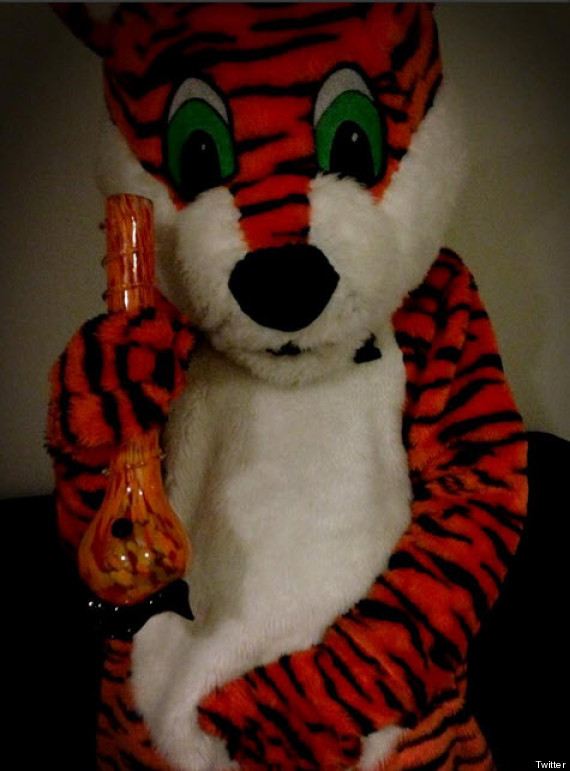 "We thought maybe it was gone for good, but then someone started (the) Twitter account," Const. Brandon Shippelt told the Edmonton Sun.
"We have a number of students who are following the account and may have some information on who had the mascot."
Despite a plea for help from students, police have had little success locating the costume.
Story continues after the slideshow
Roary The Missing Mascot On Twitter



According to the Sun, police believe several people may be rotating possession of the mascot to avoid being busted.
Whoever is behind the account is having a good time, it appears. In addition to tweeting photos of Roary around the city and posing with drugs and alcohol, the account is quick to criticize the resources police are putting in to find the mascot.
.@charlenepisani Honestly. There's murder and violent crime going on and they're using all their resources looking for a pot smoking tiger.

-- Roary The Tiger (@WheresRoary_) February 23, 2013
Hey you know what would be better then finding me? Fixing the goddamn potholes in the city.

-- Roary The Tiger (@WheresRoary_) February 24, 2013