 The ritual of coffee drinking has expanded from its humble beginnings among tribes in Ethiopia to a worldwide phenomenon known as coffee culture. As British physician Benjamin Moseley predicted in 1785, "The use of [coffee] will probably become greatly extended — as in other countries, it may diffuse itself among the mass of the people, and make a considerable ingredient in their daily sustenance." Enjoying a cup of joe at a coffeehouse while socializing has become de rigueur in many cities. The following locales have become java hotspots because their café culture has become a way of life, providing a unique view of the city and its vibe.
Seven Cities With Coffee Cred and Culture. Slideshow text follows for mobile readers.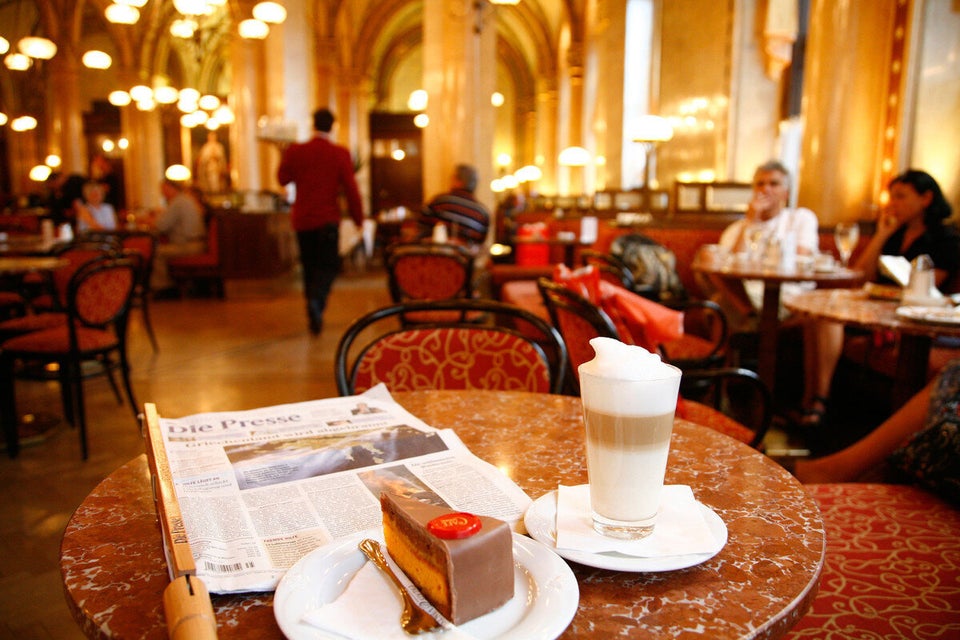 7 Cities With Awesome Coffee Culture
Our tour starts with the city built around the social gathering point that is a local café. Vienna's strong coffeehouse culture was even given an Intangible Cultural Heritage Award Heritage Award by UNESCO in 2011. Beginning in the 17th century, coffeehouses began to spread from the Ottman Empire to Europe, and the very first appeared in Venice. The marble-tabled cafes which began popping up in stately buildings featuring high ceilings and chandeliers became gathering grounds for the likes of intellectuals, artists and revolutionaries, including Sigmund Freud and Gustav Klimt. Several centuries later, the coffeehouses (sometimes known as public living rooms) remain a place to savour the national pleasure, coffee and cake, enjoy international newspapers and engage in conversation. But be warned: This is not a place to rush. A sign in one Viennese café reads: "Sorry, we do not cater to people in a hurry. Thank you."
Although the coffeehouse scene may have arrived in South America by way of Europe, for the past 200 years in Buenos Aires the locals have made it their own. Enthusiasts visit the confiterias (cafes) on nearly every street corner. Here, drinking coffee is a way of life, allowing for lingering long into the afternoon at outdoor tables to people-watch and converse. The oldest and most classic coffee shop in Argentina is Cafe Tortoni, which dates back to 1858—where the city's most creative, from musicians to artists, gathered. Some cafes also feature billiards or cards, along with jazz and tango music. Local favourites include café con leche, "coffee with milk," and cortado, or espresso "cut" with a bit of milk to reduce bitterness. Drink up!
VanCity has been a coffee-lover's haven for several decades now. A robust fair trade coffee scene makes it easy for green coffee lovers to find a sustainable brew. In 2010, the city was named Canada's first Fair Trade City, meaning that the eco-friendly coffee is widely available. Hotspots include Trees Organic Café and Ethical Bean. Though the cityscape is often described as having "a coffee shop on every corner," including dozens from the chains you'd come to expect, indie cafes are also abundant, helping to propel Vancouver onto last year's list of top coffee cities from SmarterTravel.com.
Ho Chi Minh City, Vietnam
While Hoh Chi Minh City may not immediately come to mind as a coffee hotspot, Vietnam has thoroughly embraced the taste of the stimulating cuppa since the country was colonized by the French in the late 19th century. Fast-forward to today, and Vietnam is the world's second-largest coffee producer, after Brazil. Independent coffee shops are everywhere, as are people selling coffee from kiosks, stands or even stools in front of their residences. Perhaps because of its hot climate, one of the local specialties is iced coffee, usually made with sweet, condensed milk.
This seaside city might come second in many "best U.S. coffee" lists to caffeinated giant Seattle, including Travel + Leisure's 2011 list, but its thriving independent scene is making it a major contender for top spot. Many have said Portland's coffee scene has surpassed it. "The Portland coffee scene is as good or better than anywhere in the country. As vibrant as New York, it's as forward-thinking as San Francisco, it's as committed to coffee as Seattle, it's as outrageous as L.A.," says Ric Rhinehart, executive director of the Specialty Coffee Association of America. Along with large local chains such as Stumptown, Portland also has numerous independent coffeeshops, with more opening all the time. Roast is a major buzzword in Portland, from using vintage machines to organic or small batch roasts, called "boutique roasting."
The rapid modernization of this Asian city has bestowed this urban centre with the highest number of coffee shops in the world—more than 10,000 in total. As proof that the café scene in Seoul is enjoying an explosion, this year the city will host Coffee Expo Seoul 2013, expected to attract 50,000 buyers. But lest you think it's all about volume, enthusiasts take their coffee seriously, even taking lessons from baristas who have spent years honing their skills, a recent CNN report says. Here, you can even order a Hello Kitty themed beverage with the iconic cat etched in the froth.
This list would be remiss if it didn't mention the birthplace of espresso—the ultra-strong drink which fuels coffee aficionados the world over. Espresso, patented in Italy in the 1950s, enabled Italians to get their coffee fix quickly at a coffee bar on their way to work. That's right, coffee in Rome is consumed at a bar rather than a café—the idea being a quick caffeine fix in two or three sips. But if relaxation is the order of the day, Rome also has many outdoor cafes to sip cappuccinos. For a truly authentic experience, try Il Caffe di Sant'Eustachio, established in the 1930s. Its tables face a piazza, making it the perfect place to relax and enjoy la dolce vita.
There's something new brewing at the Nabob Coffee Co. Find out more at nabob.ca