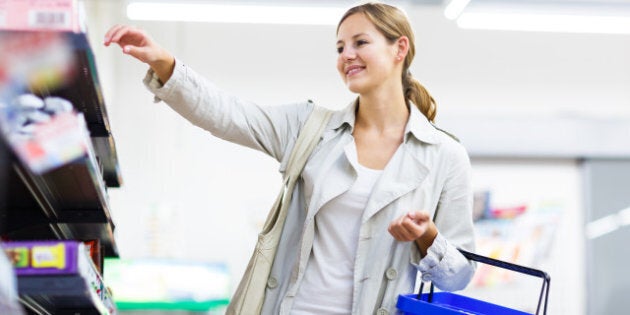 When shopping, try to purchase healthy items from the perimeter of the grocery store and supplement with staples from the inner aisles.
Here are some easy and flavourful recipes keeping mind those principles.
Mediterranean Roasted Beef and Veggies
This colourful, nutritious dinner cooks all at once in the oven, making little preparation or cleanup. Serve with cooked couscous, quinoa, rice or pasta.
3 plum (Roma) tomatoes, cored and quartered
1 small Spanish onion, cut into 12 wedges
1 baby eggplant, cut into chunks
1 red bell pepper, cut into chunks
1 yellow bell pepper, cut into chunks
250 g (8 oz) zucchini (about 2 small), cut crosswise into 1-cm (1/2-inch) slices
125 g (4 oz) mushrooms, quartered
60 ml (4 tbsp) basil pesto, divided
1.5 kg (3 lb) boneless beef sirloin tip or inside round oven roast
Pinch each salt and freshly ground black pepper
15 ml (1 tbsp) balsamic vinegar
5 ml (1 tsp) liquid honey
Line a rimmed baking sheet with foil and spray lightly with cooking spray.
In a large bowl, combine garlic, tomatoes, onion, eggplant, red pepper, yellow pepper, zucchini, mushrooms and 45 ml (3 tbsp) of the pesto; toss to coat. Spread evenly on prepared baking sheet; set aside.
In an ovenproof saute pan or skillet with a rack, heat oil over medium-high heat. Season beef with salt and pepper. Cook beef, turning with tongs, for about 10 minutes or until browned all over. Spread remaining pesto over roast. Place on rack in the same saute pan.
Roast beef and vegetables in a 140 C (275 F) oven for about 1 1/2 hours or until a meat thermometer inserted in the thickest part of the roast registers 60 C (140 F) for medium-rare, or until desired doneness. Transfer roast to a cutting board, tent with foil and let stand for 10 to 15 minutes.
Using a rubber spatula, scrape vegetables into a large bowl. Add vinegar and honey; toss to coat.
Carve roast across grain into thin slices. Serve with vegetables.
Makes 6 servings, with leftovers.
Tip: Set aside 500 ml (2 cups) each of the roasted veggies and slivered thinly sliced roasted beef to make the next day's main-course salad or sandwich.
Nutrition information per serving: 204 calories; 7.1 g fat (2.3 g saturated fat); 7 g carbohydrate; 26 g protein; 2 g fibre; 130 mg sodium.
Source: "Cook!" Dietitians of Canada (Robert Rose Inc., 2011).
Story continues below slideshow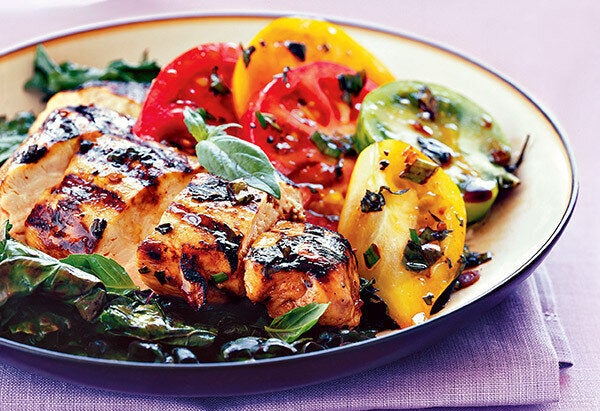 10 Amazingly Beautiful Dinners
Honey-Garlic Chicken and Sweet Pepper Stir-Fry
When time is short, a stir-fry is ideal. If you cut up the chicken and sweet peppers ahead of time, your prep time will be even quicker.
Preparation Time: 10 to 15 minutes
45 ml (3 tbsp) cornstarch
75 ml (1/3 cup) reduced-sodium soy sauce
30 ml (2 tbsp) liquid honey
15 ml (1 tbsp) butter, divided
500 g (1 lb) boneless skinless chicken, cut in thin strips
1 each sweet red, yellow and green pepper, cut in thin strips
30 ml (2 tbsp) rice vinegar
Hot pepper sauce, to taste (optional)
In a bowl, whisk a little of the milk into cornstarch to make a smooth paste. Whisk in remaining milk, soy sauce and honey; set aside.
Heat a wok or large skillet over high heat. Add half the butter; swirl to coat. Add chicken and garlic and stir-fry for 3 minutes or until browned; transfer to a bowl. Add remaining butter to pan, then peppers. Stir-fry for 5 minutes or until tender. Return chicken and any juices to pan. Reduce heat to medium.
Whisk milk mixture and pour into pan. Cook, stirring, for 5 minutes or until chicken is no longer pink inside and sauce is thickened. Stir in vinegar and hot pepper sauce, to taste, if using.
For the Adventurous: Reduce soy sauce to 50 ml (1/4 cup), reduce cornstarch to 30 ml (2 tbsp) and add 30 ml (2 tbsp) hoisin sauce and 10 ml (2 tsp) hot Asian chili sauce to sauce. Replace half of the chicken with peeled, deveined shrimp.
Cooking Tip: Be sure to heat the wok or skillet until it's hot, but not smoking, before starting to cook. The hot pan helps the chicken and vegetables cook quickly and brown nicely.
Source: Dairy Farmers of Canada 2013 Milk Calendar, MilkCalendar.ca.
Give this nutritious, colourful salad for one some crunch with baked tortilla wedges.
1 whole-wheat tortilla (15 cm/6 inches), toasted and cut into wedges
2 handfuls of baby spinach (500 ml/2 cups)
50 ml (1/4 cup) canned or frozen, (defrosted and drained) corn kernels
1/2 red bell pepper, sliced in thin strips
1 small plum (Roma) tomato, cut into wedges
1 green onion thinly sliced
75 ml (1/3 cup) grated part-skim mozzarella cheese
2 hard-cooked eggs, sliced
50 ml (1/4 cup) black beans, drained
30 ml (2 tbsp) low-fat ranch dressing (or dressing of your choice)
Heat oven to 200 C (400 F). Cut tortilla into wedges and place on foil-lined baking sheet. Bake for 5 to 6 minutes or until browned.
In a salad bowl, combine all remaining ingredients. Drizzle with dressing.
Source: Manitoba Egg Farmers, www.eggs.mb.ca