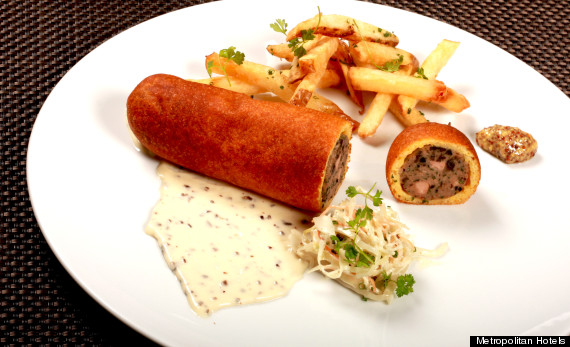 The $17 Diva Corn Dog is made of sweetbread, bone marrow, truffle and foie gras. (Metropolitan Hotels)
Vancouver-area restaurants have already made headlines for the world's most expensive hot dog and a $450 pizza, so why not add a pricey corn dog to the list.
Diva at the Met has added the Diva Corn Dog at $17 to its lunch menu. The high-end hotel restaurant puts its twist on the classic with a homemade gourmet sausage of sweetbread, bone marrow, truffle and foie gras. It's battered in buttermilk and cornmeal then paired with truffle mayo, grainy mustard and homemade sauerkraut slaw.
The item was first offered last year as part of a promotional twist on street foods.
One blogger who tried it complained about how "incredibly rich" the dog was, meaning the taste, not the price.
Last year, Vancouver's DougieDog Hot Dogs won a Guinness World Record for its $100 hot dog, infused with expensive century-old cognac and topped with Kobe beef and fresh lobster.
A few months later, Steveston Pizza Co., which has locations in Vancouver and Richmond, featured a $450 pizza topped with lobster thermidor, black Alaskan cod and Russian caviar.
Also on HuffPost