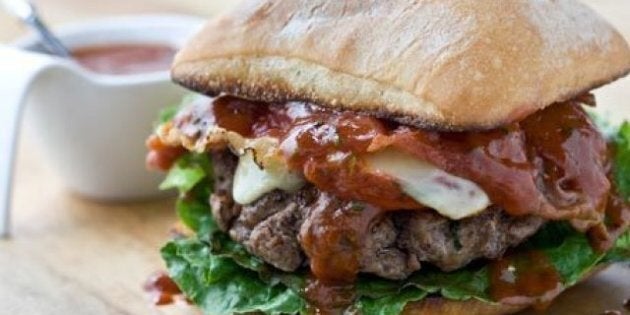 Summer is right around the corner, and what better way to kick off the season than by trying out some great new burger recipes? Nothing says summer like a burger fresh off the grill, but using the same old tried-and-true formula over and over again can get old fast.
But fear not, we've got seven recipes that will add some zest to your grilling routine. Read on to learn how to whip up some truly unique spins on the summer staple, courtesy of Bick's® and celebrity chefs Curtis Stone, Tyler Florence, Marcus Samuelsson, Devin Alexander and Georgeanne Brennan. Grill time just got a lot more exciting.
ENTRY CONTINUES BELOW SLIDESHOW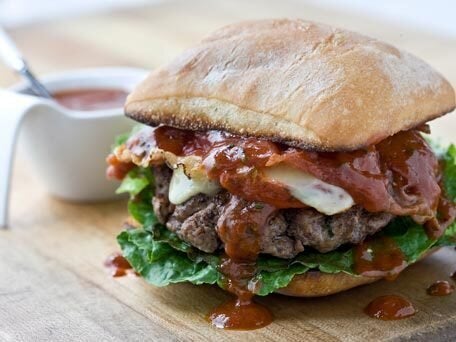 7 Must-Try Burger Recipes
Trust gourmand Curtis Stone to take the basic burger to an entirely new level. This upscale take on the classic recipe is topped with mouth-watering prosciutto and scrumptious roasted tomatoes for a first-class burger experience. For the ultimate finishing touch, drizzle the burgers with gourmet homemade ketchup.
FOR THE ROASTED TOMATOES:
3 garlic cloves, thinly sliced
Salt and freshly ground black pepper
8 very thin slices prosciutto
2 large shallots, finely diced (about 2/3 cup)
Salt and freshly ground black pepper
1 1/4 pounds freshly ground beef chuck (preferably prime grade)
2 tablespoons finely chopped fresh Italian parsley
2 teaspoons Dijon mustard
1 teaspoon Worcestershire sauce
1/4 teaspoon freshly ground black pepper
1 large egg, beaten to blend
4 3 1/2-inch squares ciabatta bread, halved horizontally
2 tablespoons butter, room temperature
4 ounces Fontina cheese, thinly sliced
1 tablespoon Dijon mustard
1 tablespoon Sherry vinegar
1 tablespoon Worcestershire sauce
1 tablespoon finely chopped fresh chives
2 teaspoons finely chopped fresh tarragon
3 tablespoons extra-virgin olive oil
To prepare the roasted tomatoes: Position the rack in the center of the oven and preheat the oven to 500°F. Place the tomatoes on a baking sheet. Arrange the garlic slices on top of the tomatoes and scatter the thyme sprigs over the tomatoes. Drizzle with the oil and sprinkle with salt and pepper. Roast until the tomatoes are tender and golden brown on the bottom, about 20 minutes. Set aside.
To prepare the burgers: Heat 1 tablespoon of oil in a heavy large sauté pan over medium heat. Working in batches, lay the prosciutto slices in the pan and cook over medium heat until crisp and golden, about 2 minutes per side. Transfer the crisped prosciutto to a paper towel-lined plate.
Heat the remaining 1 tablespoon of oil in a heavy small sauté pan over medium heat. Add the shallots. Sprinkle with salt and pepper and sauté until tender, about 2 minutes. Stir in the minced garlic. Remove from the heat and cool completely.
Gently mix the cooled sautéed shallots and garlic with the ground beef, parsley, mustard, Worcestershire sauce, 1/2 teaspoon of salt, and 1/4 teaspoon of pepper in a large bowl until well blended. Mix in the egg. Divide the beef mixture into 4 equal mounds. Shape each mound into a patty.
Preheat a grill pan or prepare a barbecue for medium-high heat. Brush the cut sides of the ciabatta with butter. Grill the ciabatta, cut side down, until lightly toasted, about 2 minutes. Place the ciabatta on a plate and cover to keep warm.
Grill the patties until brown on the bottom, about 3 minutes. Turn the patties over. Top the patties with the roasted tomatoes and then with the cheese. Continue to grill until the patties are no longer pink in the centre.
Meanwhile, to make the gourmet ketchup: Whisk the ketchup, mustard, vinegar, Worcestershire sauce, chives, and tarragon in a large bowl to blend. Gradually whisk in the oil to blend well. Set the sauce aside.
To serve: Place the lettuce over the grilled ciabatta bottoms. Set the patties on the lettuce. Spoon some gourmet ketchup over the burgers. Top with the crisped prosciutto. Cover with the ciabatta tops. Serve the remaining gourmet ketchup alongside.
Everybody loves having options. That's what makes Food Network star Tyler Florence's "burger bar" concept such a crowd-pleaser. His patty recipe is a cut above regular old burgers, thanks to its perfectly seasoned ground brisket. It's the selection of gourmet condiments that's what really takes this recipe to the next level, though. After all, who expects to see bacon with rosemary as part of the cookout spread?
2 pounds beef brisket, ground twice
kosher salt and freshly ground black pepper
8 thin slices Swiss cheese
Grease grill and preheat to medium hot.
Season 2 pounds of brisket (ground twice) in a bowl with some salt and pepper. Give it about 3 turns in the bowl with your hands or a big spoon. Shape ground beef into 8 patties.
Once the grill is hot, put the patties on and cook burgers 7-10 minutes per side, or until no longer pink in centre. During the final minute of cooking, throw a slice of Swiss cheese on desired burgers. Toast the buns cut side down for about 1 minute, just to mark them.
Prepare toppings as desired.
Tomatoes With Sea Salt and Chives: Thickly slice 2 pounds heirloom tomatoes, drizzle with olive oil, and sprinkle with sea salt and 1/2 bunch chopped fresh chives.
Bacon With Rosemary: Lay out 1/2 pound sliced bacon on a baking sheet, strip leaves from 1 sprig rosemary and throw them on top with lots of cracked black pepper and roast at 400 degrees F until the bacon is crisp, about 10 minutes.
Herbed Horseradish Mayonnaise: Stir together 1 cup mayonnaise, 1 tablespoon prepared horseradish, 1/4 cup freshly minced herbs such as parsley, basil, chives or scallion, 2 tablespoons olive oil, a little squeeze of lemon juice and salt and pepper.
Serve the hamburgers in toasted buns with desired accompaniments.
If you're looking for a break from beef, why not try this delicious tuna patty by Top Chef Master Marcus Samuelsson? You don't need a BBQ for this super easy recipe, making it the perfect rainy day treat.
2 pounds chilled fresh tuna steaks, finely diced
2 tablespoons chopped drained capers
1 tablespoon Dijon mustard
1 teaspoon freshly ground black pepper
3/4 teaspoon coarse kosher salt
6 brioche buns, halved horizontally, lightly grilled
Chopped raddichio to garnish
2 tablespoons Dijon mustard
Gently mix diced tuna and next 5 ingredients in large bowl. Using moistened hands, shape tuna mixture into six 3/4-inch-thick patties (each about 4 inches in diameter). Place burgers on plate. Cover and refrigerate at least 1 hour and up to 1 day.
To make lemon mayo, combine all ingredients.
Heat large sauté pan on medium high heat with 3 tablespoons canola oil.
Cook burgers until almost cooked through, about 3 minutes per side. Arrange 6 brioche buns on work surface; spread with lemon mayo. Top each with burger, chopped radicchio and more lemon mayo. Cut burgers in half and serve.
Feeling guilty about your summer indulgences? Console yourself with Devin Alexander's scrumptious wonder. The Biggest Loser chef has concocted a remarkable recipe that's definitely worth a try.
1 tablespoon low-fat mayonnaise
1/2 teaspoon yellow mustard
1/4 pound extra-lean ground beef
1 slice (3/4 oz.) fat-free American cheese (optional)
1 whole-grain or whole-wheat hamburger bun
1/4 cup chopped romaine lettuce leaves
In a small bowl, combine the mayonnaise, ketchup, and mustard. Stir to mix. Set aside. Shape the beef into a patty that is about 1/2" wider than the bun.
Preheat a medium nonstick skillet or grill rack on high heat. Place the patty on the pan or grill. Cook for 1 to 2 minutes per side, or until desired doneness. (Do not smash the burger with the spatula.) About 30 seconds before the burger is cooked, top with the cheese, if desired. Place the bun halves, cut sides down, on the pan or grill. Cook for about 45 seconds, or until toasted.
Place the bun bottom on a serving plate. Top with the patty, lettuce, onion, and pickles. Spread the reserved sauce evenly over the inside of the bun top. Flip onto the burger. Serve immediately.
What could be better than gooey, mouth-watering cheese melted on top of your burger? Having gooey, mouth-watering cheese stuffed inside of your burger, of course! Noted cookbook author Georgeanne Brennan's unique spin on the traditional burger recipe will have all of your guests saying 'cheese, please' in no time.
2 teaspoons kosher or sea salt
1 1/2 teaspoons freshly ground black pepper
3 ounces Cheddar cheese, coarsley grated
In a bowl, combine the meat, salt, and pepper and mix well with your hands. Divide the meat into 12 balls and flatten 6 of them slightly. Divide the cheese into 6 portions. In the center of each of the slightly flattened 6 balls, place the cheese. Place the remaining balls on top and pinch the edges together. Gently flatten to make 6 patties 4 to 5 inches in diameter. Wrap in plastic wrap and refrigerate for 1 hour and up to 4 hours before cooking.
When ready to cook, prepare a wood or charcoal fire in a barbeque, preheat a gas grill and grease grill.
Place the buns cut side down on the grill and grill until just golden, 2 to 3 minutes. Remove to a plate and keep warm.
Place the patties on the grill and Grill patties 10 minutes per side or until centre of meat is no longer pink. If using a broiler, place the buns and later the patties 6 to 8 inches from the heat source.
Serve hot with the buns and condiments.
If you love garlic, you're going to adore these. The garlic-infused patties combined with the aioli deliver a deliciously garlicky one-two punch. Vampires, beware.
2 tsp (10mL) Crisco® Canola or Vegetable Oil, divided
2 tbsp (30mL) Crisco Canola or Vegetable Oil
1 ½ lb (700g) extra lean ground sirloin
Crisco Canola or Vegetable Oil for grilling
Onion Garlic Aioli (recipe follows)
4 Bick's® Sandwich Savers® 50% Less Salt Tangy Dill Pickles
½ cup (125mL) Bick's Mild Banana Pepper Chunks
1. Preheat barbeque grill to high. Cut the stem end off the garlic heads and place each root side down in centre of two 8" x 10" (20cm x 25cm) pieces of foil. Drizzle each one with 1 tsp (5mL) oil and sprinkle with salt.
2. Wrap up tightly and place directly on grill. Cook 20-30 minutes, turning occasionally, until soft. Let cool. Remove from foil and squeeze out cloves from one head of garlic into a medium sized bowl. Set aside remaining garlic head for aioli.
3. Heat 2 tbsp (30mL) oil in small skillet over medium heat. Add 4 cloves of minced garlic, reduce heat to low and cook for about 5 minutes, being careful not to let the garlic brown. Let cool and add to bowl with roasted garlic.
4. Add ground beef, steak spice, salt and pepper and mix to combine. Form into 6 patties. Lightly brush one side of each patty with oil. Place oiled side down on hot grill and then oil top side. Cook, about 5 minutes per side or until an internal temperature of 160°F (71°C) is reached.
5. Place on bun and top with toppings.
Preparation Time: 30 minutes
¼ cup (50mL) Bick's® Zesty Onion Relish
2 tbsp (30mL) Crisco® Canola Oil
1. Combine all ingredients in blender and mix until a smooth paste forms. Spread on buns and top with burgers and remaining toppings.
Preparation Time: 5 minutes
Freezing: Not recommended
1 tsp (5mL) chipotle sauce
3 slices peeled and cored pineapple rings
2 Bick's® Sandwich Savers® Extra Garlic Pickles
4 slices Bick's® Sliced Beets, drained
Combine mayonnaise and chipotle sauce and spread on hamburger bun. Set aside.
Grill beef patty on high until no longer pink in centre. Place pineapple rings on grill. Grill 1 minute per side until warm. Remove. Place ½ of pickles, ½ of beets and 2 slices of pineapple on bottom bun. Top with burger and remaining pickles and pineapple. Melt butter in small skillet.
Fry egg until crispy and brown. Place on top of burger toppings and replace bun.
Freezing: not recommended