FameFlynet.uk.com
With an army of personal shoppers, stylists and millions of dollars at her disposal, you'd think Britney Spears would know a little something — or at least know the right people to tell her — about the right bra.
The 31-year-old former "X Factor" judge ran errands in Los Angeles on Thursday, wearing a clingy purple turtleneck that highlighted her ill-fitting brassiere.
Brit isn't the only celeb who is struggling with support — 'Days of our Lives' and 'Celebrity Apprentice' star Lisa Rinna was spotted coming out of a hot yoga session in L.A. earlier this week, sporting a very tight sports bra that looked like it could do damage to her lovely figure.
When it comes to finding the right bra, celebs are just like the rest of us – that is to say, completely clueless. According to one study, up to 80 per cent of women are wearing the wrong bra size. Most of us, like Rinna and Spears, are buying bras that are a size too small. Ouch!
It's not just sizing issues, either; celebs have been playing fast and loose with their lingerie lately, from dangerous side-boobs to unsightly straps to foregoing bras altogether.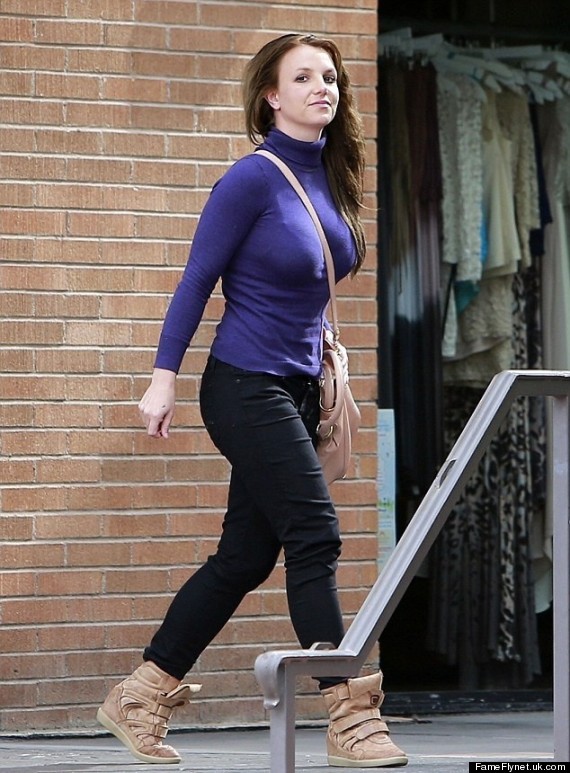 Check out some of the common mistakes that everyone (including celebs!) make when it comes to their bras:
Squished
Worst offenders: Lisa Rinna, Katie Price
A 2008 study found 70% of women are wearing their bras too small. You don't want to be overflowing your cup or squishing out the sides. If you're feeling smushed, don't just get a bigger strap size; try going up a full cup.
Lack of Support
Worst offenders: Barbara Streisand, Susan Sarandon
You want your bra to lift you up, not bring you down. Larger-chested ladies should opt for bras with wide, snug-fitting straps to give them that extra oomph.
Seeing Double
Worst offenders: Victoria Beckham, Britney Spears
A too-small cup can also create that 'double-boob' look – there should be two, not four! If you're seeing double, avoid demi-cup styles and choose a bra that sits higher on your chest.
Visible Straps
Worst offenders: Kim Kardashian, Gwyneth Paltrow
There's a right way and a there's a wrong way to show parts of your bra. If you're going to let your bra straps show, make sure it looks like it's done purposely and playfully – and never on formal occasions! For dressier events, choose strapless styles, halters, or even adhesive cups if you're too nervous to go without.
Colour Matters
Worst offenders: Kristen Stewart, Fergie
Are you wearing a sheer white top? Then you should probably be wearing a neutral bra underneath. Nobody needs to see what colour your underwear is.
Too Big
Worst offenders: Tulisa Contostavlos
While most of us are wearing bras that are too small for us, about 10% of us are wearing bras that are too big. If your bra keeps slipping down and you're not feeling supported, you may want to look for a smaller size.
Dangerous Side Boob
Worst offenders: Miley Cyrus, Lindsay Lohan
If you do choose to go bra-less, make sure the top you're wearing has sufficient coverage! You don't want to be rocking so much side boob that you're in danger of a nipple slip.
Getting Nipply
Worst offenders: Anne Hathaway, Jennifer Aniston
Speaking of nipples: as a general rule, you don't want to draw attention to them. Choose a slightly padded bra or tops with structured fabrics so you aren't giving everyone a peep show like Anne Hathaway's #LesNipperables at the 2013 Oscars.
WATCH: How to measure your bra size