 The birds are chirping, the weather is getting warmer and spring is undeniably in the air. That means it's safe to start daydreaming about all of the summer fun right around the corner, including one of the best things the season has to offer: impromptu BBQs.
You won't want to be caught unprepared if a lazy afternoon lounging in the backyard morphs into a spontaneous cookout. But don't worry; we've got you covered. Take this list of seven summer fridge essentials to the grocery store, and rest assured that you'll be ready for any spur-of-the-moment summer fun that may arise.
STORY CONTINUES BELOW SLIDESHOW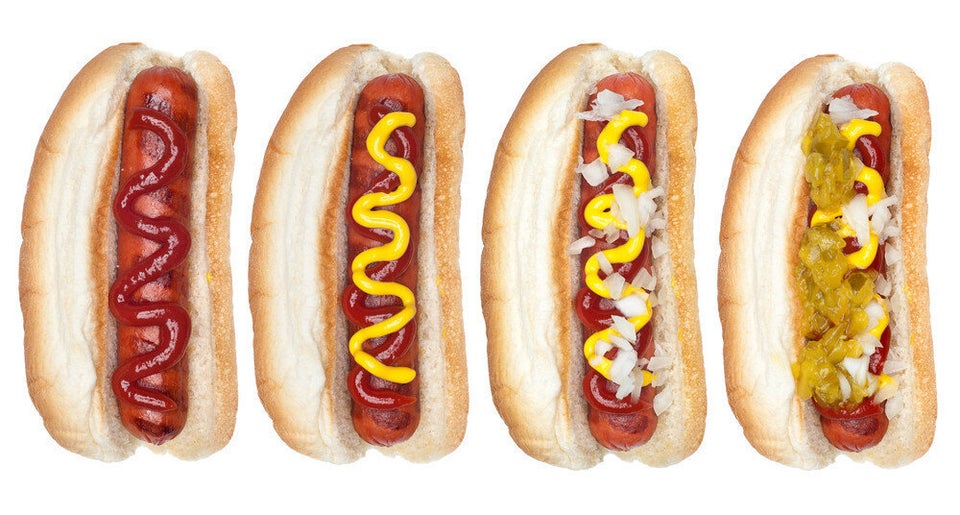 7 Entertaining Essentials For Your Fridge
1. Condiment staples like ketchup, mustard, relish, sliced pickles and mayo. Everybody loves the basics, but why not impress guests by having an upscale Dijon mustard on hand in addition to the plain yellow stuff? To prolong the life of your fancy Dijon, Fine Cooking recommends adding oil and vinegar to the jar when it's almost empty to quickly whip up a delicious mustardy vinaigrette.
2. Salad dressings. Speaking of vinaigrette, dressings to complement your summer salads are a must. Cover all of your bases by stocking your fridge with a range of creamy options like Caesar and ranch, and lighter fare such as vinaigrettes to appeal to everyone's diverse taste buds and dietary restrictions.
3. Pickles. No burger is complete without a crisp, juicy pickle. That means getting caught sans pickles at a cookout will be hard to live down. But that's not all these delicious dills are good for. Pickles can also add a unique flavour to your guacamole, or serve whole pickles. And you don't have to restrict yourself to pickled cucumbers – other pickled vegetables like beets, onions, hot pepper rings, carrots and more are gaining in popularity.
4. A selection of BBQ sauces. It's easy to get stuck in a BBQ sauce rut once you've discovered your go-to product. So why not proactively venture out of your comfort zone by stocking your fridge with gourmet and exotic selections to spice up your routine?
5. Hot sauce. This spicy staple seems more popular than ever before, with plenty of diverse options popping up on grocery store shelves. Be sure to have at least one variety of hot sauce on hand to add some kick to your side dishes and spice up your signature crowd-pleasers
6. Sparkling water. This refreshing no-frills beverage is great on its own, and is the perfect base for tantalizing juice blends. Plus it's a great option for keeping everyone hydrated on a particularly hot day. Life 123 advises planning for four non-alcoholic beverages per guest to help combat summer dehydration. You really can't go wrong stockpiling plenty of sparkling water in advance of cookout season.
7. Bags of ice. Plenty of ice is essential for any summer BBQ. Not only will it enable you to serve guests frosty cold beverages, it's also a great tool for keeping foods from overheating in the smoldering sun. Perch bowls of salads and sides (especially those that have eggs and mayo in them) on a bed of ice on the serving table.