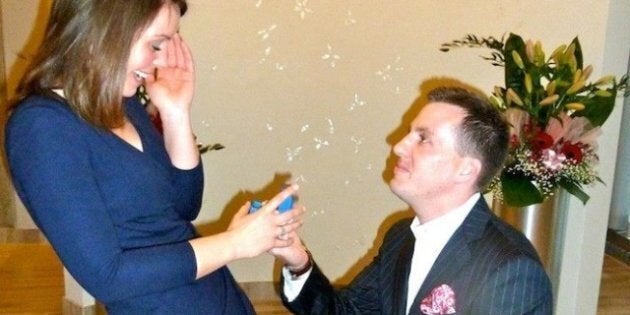 Toronto couple Jamie and Steve knew they wanted to take their relationship to the next step, but after months of searching for a wedding venue, they didn't find anything that felt quite right.
So, they decided to get married at City Hall. No white dress. No photographers. Not even wedding bands! Just two people in love who were ready to make things official.
After deciding on the venue, the couple thought it would be fun to get married the day before they left for a Caribbean cruise they had planned for mid-February 2013.
"As it turns out," Jamie tells 2life, "the day before we left for the cruise was Valentine's Day!"
The couple, who met in 2010, phoned their parents and siblings to tell them about their plan to tie the knot. While they didn't invite their families to the civil ceremony, the couple was relieved to receive their blessing to get married in a private ceremony. Aside from telling a few close friends and family members, the soon-to-be Mr. and Mrs. kept their wedding plans under wraps.
While Jamie and Steve had planned the wedding together, Steve had a super-sweet (and sparkly!) surprise up his sleeve for their big day. On February 14th, the couple arrived at City Hall for their 9:30am ceremony and were all set to say "I do." But not before Steve got down on one knee and proposed to Jamie, surprising her with a diamond engagement ring.
She was shocked and, of course, she said yes!
After the ceremony, it was time for Jamie and Steve to share their exciting news. The couple asked a passerby to snap photos of them holding up cheeky placards announcing their new relationship status, which they then posted to Facebook. Their wedding photos were flooded with "Likes" and comments from people who expressed their happiness and well wishes for the newlyweds.
"Ironically, what we thought was going to be a more private way to get married turned out to be more shared than we ever imagined," says Jamie.
Such a sweet story! Check out the photos of Jamie and Steve's adorable and creative marriage announcement.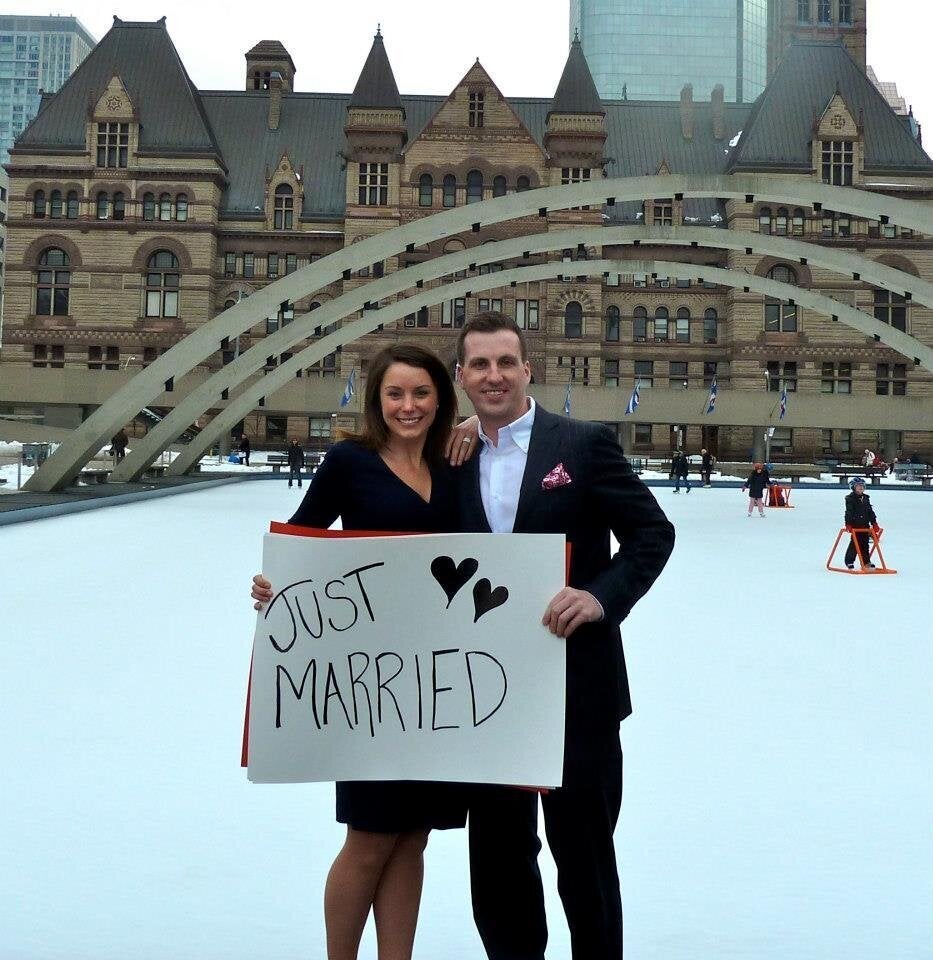 Real Weddings: A Secret Valentine's Day Wedding In Toronto
WATCH: How to plan your own DIY wedding