2forcouples.com

Dare to Wear Love is a Canadian fashion event started by Chris Tyrell and Jim Searle that raises money in support of The Stephen Lewis Foundation in its fight against AIDS in Africa (we're a proud sponsor).
Many people from all walks of life — including 10-year-old Ilse Kloosterman — took the Dare to Wear Love challenge this year to raise money for this great cause and have the chance to walk the runway alongside celebrities and models in a custom-designed outfit by a top Canadian fashion designer at the Dare to Wear Love Gala. The gala takes place this Friday (March 22nd) on the closing night of Toronto Fashion week.
A total of $13,543 was raised this year during the challenge portion by participants. Ten-year-old Ilse was one of those who fully-embraced the 22-day challenge of dressing in Canadian style (see pics above and below). The Grade 4 student from Dundas, Ont., was awarded a DTWL Challenge prize for embracing the Canadian cool theme with the most style and enthusiasm, and will walk the runway this Friday in a Susan Dicks creation. Her goal was to raise $500, and she far surpassed it, raising $830 so far.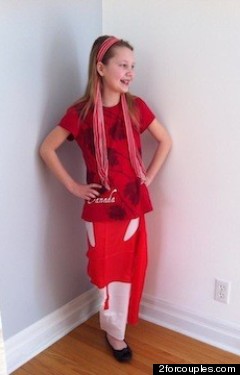 Day 3 of Ilse's DTWL challenge
In her own words, Ilse tells us why she took the challenge:
I wanted to take the DTWL challenge after my mom came back from the Dare to Wear Love launch party and told me all about the Stephen Lewis foundation, the DTWL runway show and that she would be one of the floral designers to add some flower power. It was exciting, thinking I could help out the grandmothers in Africa and at the same time having a chance to make the runway!

So we signed up and had 22 fun days of creative thinking and making pictures of me wearing Canadian fashion. The most exciting day was when I met Rodney and Christopher from Rodney Philpott Designs, since I never met a Canadian fashion designer before! And they let me borrow a dress to wear for the challenge, Awesome! Another great day was giving my speech to my class about what I was doing. Everybody liked it! I also looked forward to reading the comments on my sponsor page every day and seeing all the donations coming in.

After 22 days I had to wait and wait and wait... at least that's how long it felt and then on Friday March 8 after coming home from school I saw the email on my I-pod and jumped high in the air because I found out I was awarded 'the most style and enthusiasm via social-media spot' on the runway wooogheyyyyy! I was soooo excited, I called and emailed all my sponsors right away to thank them. Together we raised $830 for the grandmother's in Africa, $330 over my set goal…AMAZING… I can't thank them enough! And of course I told them I won the runway spot! Now I am looking forward to March 22nd. I am super excited to see and wear the dress Susan Dicks is creating for me (I have never had so many measurements taken before) and the floral creation my mom will be making. Of course most of all I am looking forward to meet all the people from DtWL and the Stephen Lewis foundation and to walk the runway."
If you would like to donate to Ilse, click here to learn more.
Find out more about Ilse's awesome story in this video she created explaining why she took the challenge this year:
Click here to get the new issue of 2 For Couples, follow us on Twitter, and 'like' us on our 2life Facebook page.
Sources: Casey House, Avert.org, Public Health Agency of Canada, CBC.