Move over Grumpy Cat. We've found another curmudgeonly animal that might just out-grump you.
Meet Mollala (Mo for short), a river otter born in late January at the Oregon Zoo. As you can see, Mo is clearly not amused by being manhandled by the staff at the zoo. He would much rather just hang out in the water with his mother.
Sigh. Sadly an otter doesn't always get his way. Mollala is named after a river in Oregon and now weighs about 2 1/2 pounds. We didn't think it was possible but Mo almost got a cuter name.
"Several people liked the name Willy, short for Willamette. And one visitor suggested naming him Pudding, after a tributary of the Molalla. We thought that was pretty cute," wrote senior keeper Julie Christie on the zoo's blog.
The zoo also isn't sure if Mo is a boy or girl otter. They're waiting for the otter to get older before letting a vet do a more thorough examination.
River otters were once plentiful in waters across North America. Sadly hunting, pollution and habitat destruction have reduced their numbers significantly except in the Pacific Northwest where they're now thriving again.
Who's grumpier? The otter? Or the cat?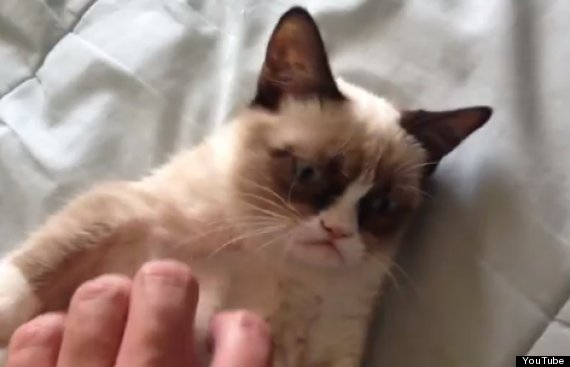 More! Adorable Animals!
Awesome Animal Photos Of 2013