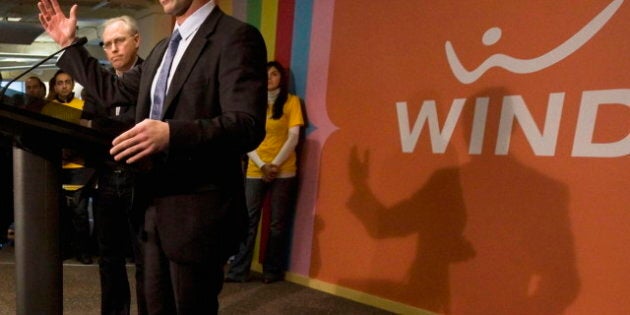 Wind Mobile, the most prominent and controversial new wireless carrier in Canada, is on the auction block, and any sale of the small player would likely reduce competition in Canada's telecom market as the most likely bidders are the big three behemoths.
A report by Dvai Ghose, head of research at Canaccord Genuity, cites several unnamed sources who claim Amsterdam-based VimpelCom has started the process to sell Wind and initial bids are due Friday.
Any buyer would likely have to finance new spectrum purchases and build LTE, which could cost the company another $1.5 billion on top of the acquisition price.
"The incumbents are obvious bidders as buying WIND would 1) eliminate a competitor and give the bidder over 600,000 subscribers and 1,300 cell sites; and, 2) give the incumbent 20-40 MHz of incremental AWS spectrum," he wrote in the note.
However, he added, it is highly questionable whether the sale to an incumbent would be allowed by Industry Canada, which started the spectrum bid to increase competition in the market in the first place.
Wind and other smaller wireless players like Public Mobile and Mobilicity have been struggling to gain market share against behemoths Bell, Telus and Rogers ever since they entered the market nearly five years ago, offering Canadians looser contracts and discounted plans.
Ghose said VimpelCom's potential sale of Wind comes as no surprise, given the Canadian company's challenges in the market and the parent company's focus on deleveraging debt and desire to enter emerging markets. He estimates VimpelCom has pumped about $1.7 billion into Wind, including $442 million to win wireless spectrum during the 2008 bidding process.
Wind once advocated a takeover among the smaller players to form one company large enough to compete with the entrenched players, and claimed it was in the best position to buy.
A merger between the smaller players is still on the table, he said.
"While we assume that any acquirer of Wind Mobile Canada would consider consolidating Mobilicity and Public Mobile, this would require even more capital," he wrote.
But Ghose remains doubtful that a sale will actually take place.
"VimpelCom's potential interest in selling WIND Mobile in Canada highlights overall new entrant challenges and we wonder who would really want to acquire Wind."
"Ex Videotron and EastLink, new entrant survivability remains a key risk and we may not even see much new entrant participation in this year's 700 MHz auction, with the exception of the aforementioned cablecos who are regional."
As new competitors falter, the picture looks increasingly rosy for the big three wireless players, he said.
"In the interim, the incumbents enjoy technology, spectrum, brand, bundling, device selection, distribution and funding advantages over the independent new entrants," Ghose wrote.
"Of course our concern remains that regulators could introduce measures that penalize incumbents as new entrant wireless competition has been largely disappointing. However, to date we have seen no real signs of a regulatory backlash and note that both the 700 MHz auction rules that were released earlier this month and the CRTC's draft code of conduct for wireless carriers look fairly benign for the incumbents."
Earlier this year Wind signed a deal to become fully-foreign owned under VimpelCom subsidiary Orascom, a prospect that once raised the ire of wireless incumbents.
The deal came after changes by Industry Canada allowing companies with less than 10 per cent of the telecom market to have no restrictions on foreign investment.
Wind launched in late 2009 after a cabinet order overturned a CRTC ruling which said the company wasn't Canadian owned or control at the time due to foreign investment.

How HuffPost Readers Would Change The Wireless Industry