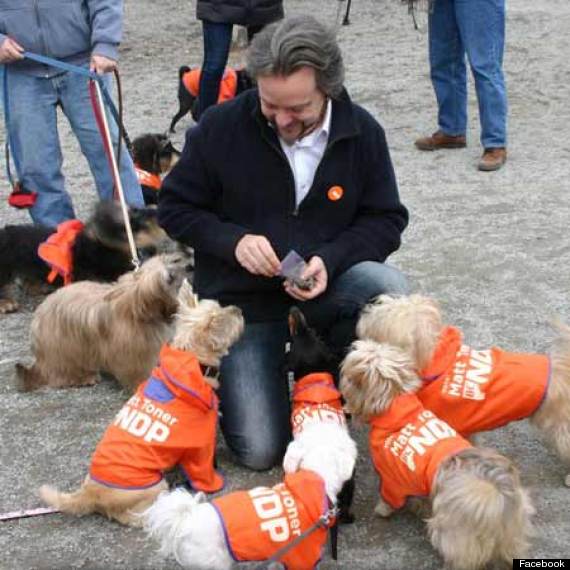 An upstart NDP candidate is turning to man's best friend to get the word out to condo-dwelling constituents in Vancouver-False Creek.
Matt Toner has fashioned little orange dog jackets as part of his campaign in a riding dominated by condominiums, Metro News reported.
Toner displayed the jackets on some furry friends at Hinge Park, the Olympic Village's off-leash dog park on Sunday, telling media that getting the message out in a campaign requires some "unconventional tactics."
Sam Sullivan, Toner's B.C. Liberal opponent, is taking the tactic in stride, telling The Province that much of the social life in the riding revolves around dogs. He's made a campaign jacket for his own dog, Boots.
But Sullivan and Toner aren't just facing off on all fours, as social media plays an integral part in each of their campaigns. Toner is using a web platform called Place Speak that connects voters to area-specific political issues, while Sullivan is canvassing media such as Facebook, Twitter and LinkedIn, The Vancouver Sun reported.
Also on HuffPost
BC Election 2013 Star Candidates