There are stories of pressing national importance, and then there's Tim Hortons' Roll Up The Rim To Win contest, a veritable Canadian preoccupation and one so rife with rumours of conspiracy that it begs for an, ahem, journalistic investigation.
Alexandra Cygal, senior manager of public affairs for Tim Hortons, gave a categorical "no" when we asked her if the odds change depending on cup size.
The "conspiracy theorists are wrong," she said in an email. "Our prizes are distributed randomly across all eligible cup sizes so large cups don't necessarily mean better odds."
So we challenged members of our talented newsrooms to take part in a journalistically questionable, unreliable and completely unscientific experiment: We asked them to drink a swimming pool's worth of coffee over a week and keep their cups. Sure, we knew the results would be skewed by all kinds of factors, beginning with the small sample size and ending with the fact that most cups were bought in Toronto.
Still, guess what we found? Our staff, which consumed 92 beverages over the week, were far more likely to win a prize if they purchased an extra large drink than a small drink. The numbers:
Story continues under gallery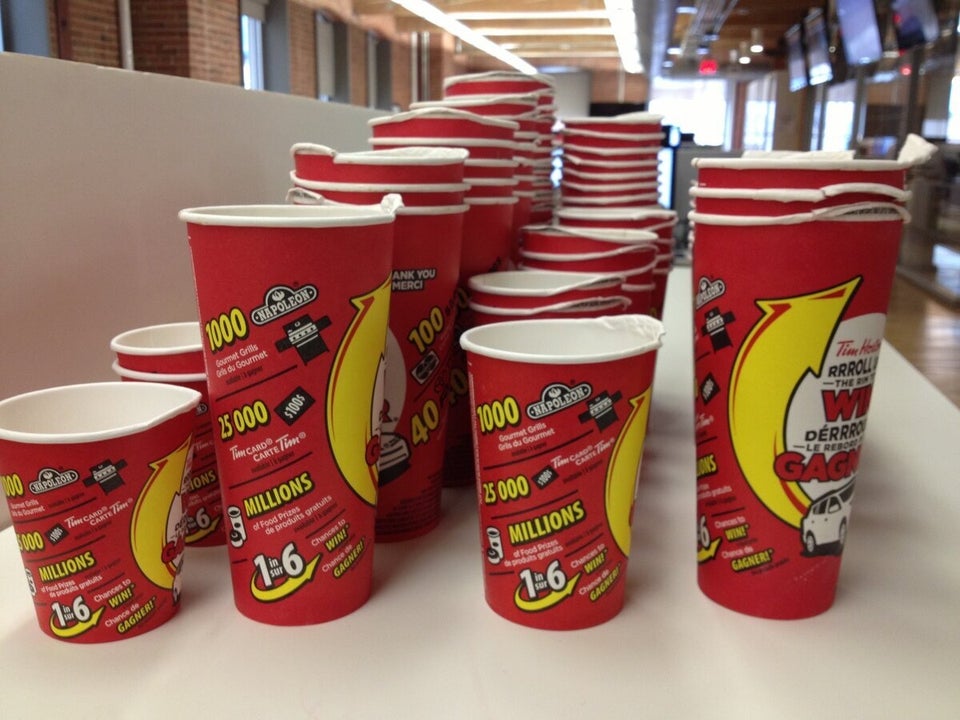 18 Extra Large Cups: 5 wins; 13 losses (27.7 per cent winners or one-in-3.5 odds)
18 Large Cups: 3 wins, 15 losses (16.6 per cent winners or one-in-six odds)
18 Medium Cups: 3 wins, 15 losses (16.6 per cent winners or one-in-six odds)
38 Small Cups: 4 wins, 34 losses (10.5 per cent winners or one-in-9.5 odds)
For the record, the winning prizes were 11 coffees and four doughnuts. No gourmet grill or Rav4 for us. And the overall number of prizes-to-cups is pretty much one-in-six (16.3 per cent), as advertised, though certainly not if you break it down by individual cup sizes.
By the way, if you think odds of one-in-six mean you're due a prize after buying six drinks, a crash course in probability theory is warranted.
As Wai Kong (John) Yuen, a math professor at Ontario's Brock University says, "it only means that in the long run, if you buy a large number of coffees, say 600 cups, you are expected to win around 100 times. However, anything can happen if you only buy six."
Think of what happens when you roll dice. There's a one-in-six chance the die will turn up a six. The odds essentially "reset" on the next roll. Says Vadim Kaimanovich, the Canada Research Chair in Analysis and Probability at University of Ottawa, "The result doesn't depend on what happened before or what happens after."
"What difference does it make to the dice that you rolled it some way in the past?" adds Jeremy Quastel, a math professor at University of Toronto.
Roll Up The Rim, he notes, "is a tiny bit different with the coffee cups, because the odds don't completely reset each time. There are a fixed number of winning cups, so after you buy a losing cup there is the tiniest improvement of your chances the next time. But it is way too small to make any real difference."
Regional differences do exist, according to Yuen, who crunched the numbers for HuffPost. The odds for small prizes aren't disclosed, but it's reasonable to assume that it's one in six everywhere, he said.
However, your chances of winning a car are best in the Atlantic provinces, Yuen found. You're more likely to win a BBQ in Ontario. The best chance to win a $5,000 pre-paid Mastercard or $100 "Tim Card" is to buy your Timmies in — gasp — the United States.
Again, the big prizes are few and far between. As our friends at WalletPop Canada note, the odds of winning one of the cars on Roll Up The Rim is one in 6.5 million. You'd have far more luck winning the grand prize home in one of those charity lotteries.