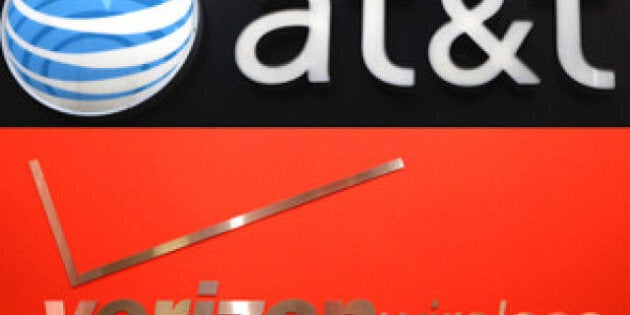 Major U.S. wireless carriers may be eyeing a purchase of Wind Mobile, spurred to action by recent changes to foreign ownership rules that for the first time allow them to own and operate in Canada, according to a source familiar with the small Canadian player.
Speculation about who might buy Wind has been rampant after a report last week, citing several unidentified sources, said Amsterdam-based parent company VimpelCom has started a process to sell the telecommunications subsidiary.
A separate source has told The Huffington Post Canada that U.S. players could be interested in bidding on the company. If a U.S. carrier were to acquire Wind, it would become the first American company to own a telecom company in this country after years of foreign ownership restrictions that limited overseas investors to minority stakes only.
Those regulations were loosened last year to allow foreign ownership of companies with 10 per cent or less of market share.
The changes prompted a deal earlier this year for Wind to become fully foreign-owned by Dutch giant VimpelCom through its subsidiary Orascom in a move that, if approved by regulators, would make Wind the first foreign-owned telecom company in Canada. But if reports that it is on the auction block are correct, the company could change hands even before the deal is approved.
The loosening of those ownership rules has made Wind more attractive to players outside Canada. Wind has since had "inquiries" from major wireless companies in the U.S., Asia and Europe, the source said.
A Wind takeover by a large U.S company such as Verizon or AT&T could give Canada a powerful fourth player, a scenario that some industry-watchers say would shake up the industry and could benefit Canadians by bringing more choice and lower prices to the market.
Wind CEO Anthony Lacavera has offered between $500 million and $1 billion to buy the company from VimpelCom, the source said, adding that he expects Lacavera's bid to be contested.
At that price, the company would be a deal for any major player looking to enter Canada. It's a fraction of the $1.7 billion that has already been invested in expanding Wind's market share to about two per cent of Canadian wireless subscribers.
An AT&T spokesman said the company had no comment on the matter, while Verizon did not respond to a request for comment. Wind also refused to comment on reports that it had put itself on the auction block. And Lacavera said he could not confirm that he has made an offer.
It has been tough for new entrants to make inroads into Canada's wireless market, with the big three incumbent players – Bell, Telus and Rogers – owning about 95 per cent of the market.
Wind has built up about 600,000 subscribers since its launch in 2009 but appears to have fallen short of its goal to have about 1.5 million subscribers by its third year of operation. Still, its built-in subscriber base and position to purchase more wireless spectrum in the next auction, as well as the existing infrastructure and discounted price, make it a target worth considering.
"There are many reasons why they should come in and basically out-incumbent the Canadian incumbents by using scale against them," said Dvai Ghose, a telecommunications analyst at Canaccord Genuity who broke the news of Wind's potential sale.
"But then that begs the question: Well, if it's such a no-brainer, why haven't they come in?"
A U.S. bidder makes sense for many reasons, including a relatively low cost of entry as well as similar markets and business models and the opportunity to cash in on existing cross-border name recognition. U.S. operators have previously shown interest in Canada through AT&T's former minority stake in Rogers' wireless divison and Verizon's once-held shares in Telus.
"'There's enormous power in terms of being contiguous and very like-minded in terms of our wireless businesses," he said.
In the U.S. market, as in Canada, carriers subsidize handset costs in exchange for lengthy contract commitments, and customers are oriented toward smartphones and rack up relatively big average monthly bills.
By contrast, current owners VimpelCom focus operations in emerging markets like Bangladesh and Algeria, where there are no phone subsidies, fewer smartphones and more low-end devices, as well as cheaper monthly bills.
But there are also numerous factors that continue to deter large foreign players, including a feeling that with a population of some 34 million, Canada's wireless market is simply too small to matter much to such giants as Verizon or AT&T.
Ghose said foreign competitors ask themselves three questions when looking at a new market: whether it is profitable, whether it offers high growth prospects and how competitive it is.
"They concentrate either on high-growth emerging markets or on profitable developed markets, and Canada is neither on the new new entrants' side," Ghose said.
"It's not a particularly competitive country, perhaps because of scale, but wireless gets a lot of attention because it's such an important part of people's lives."
In addition, although there are cultural similarities between Canada and the U.S., the country still presents different challenges for a foreign investor, including a new set of competitors and regulators.
The potential sale of Wind is the first indication of a wave of recapitalization of the smaller players whose valuations had been considered too high for them to be profitable takeover targets, especially considering that any buyers would have to commit to investing more money in developing infrastructure and acquiring more spectrum if they wish to grow.
With just two per cent of the market, Wind could be a prime target for a foreign company because the restriction to a maximum 10 per cent of the Canadian market applies only at the time of purchase and does not limit potential market share afterwards.
That stipulation also renders it illegal for foreign foreign investors to control one of the big incumbents, making smaller players the only acquisition opportunities available.
Amit Kaminer, a telecommunications at SeaBoard Group, believes that the stiff regulations have been eased too late and that many potential foreign investors have moved on.
"The large EU carriers that were looking for growth found it in Latin markets, and ... look for stability instead of another market entry, which is always challenging even when the numbers/valuation make sense,"
Meanwhile, he said, U.S. carriers are embroiled in their own domestic issues, including a wave of consolidation in the industry, and have little appetite to look beyond their borders.
"That said, it doesn't mean that all is doom and gloom. There are still cases and companies in Canada that foreign entities can add great value to and make an impact."
Aside from Lacavera, other reports have suggested that interested parties could include fellow new entrants or one of Canada's major incumbent players.
But Ghose said either of those scenarios is unlikely, as new entrants barely have enough money to keep themselves afloat, while any potential sale to one of the big three would most likely be blocked by Industry Canada, the CRTC or the Competition Bureau.
Any potential buyer of Wind – whether it be a domestic or foreign company – will have to face the glaring question of whether there is enough room in the Canadian market for four major wireless companies, which has not been possible even in the bigger U.S. market.
"If the U.S. can't support four players," Ghose said. "How the hell can Canada?"

How HuffPost Readers Would Change The Wireless Industry