Asked by Sun Media's Don Peat about a report from Metrolinx presenting possible taxes that would allow Toronto to pay for transit expansion, the mayor pretended to retch, complete with audio.
"We can't tax people, implement these new taxes to pay for transit. You want to pay for transit? I've got a good idea: it's called a casino," Ford said at press conference. "You can get a lot of money to pay for a good amount of the transit. You get the private sector involved. People aren't ready for new taxes yet, they just aren't, so I can't support any of these new taxes, and that's it."
While Ford's stance on taxes is well known, so it was the vomiting noise that headline writers have focused on.
Story continues below photo and slideshow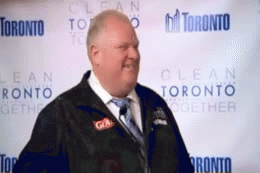 Metrolinx, the provincial transportation agency charged with intergrating and expanding public transit in the Toronto-Hamilton region, made several proposals for raising revenue, including a hike in the sales tax and tolls on 400-series highways.
That means everyone in Ontario could end up paying for public transit improvements, even if they don't use the system.
Metrolinx produced a short list Tuesday of 11 options to fund the expansion of public transit, which also include a hike in property taxes, a new payroll tax, parking levies and a half-cent-a-litre tax on gasoline.
The agency, which will make its final recommendations to the Ontario government by June, says the province should also consider a new charge for every kilometre a vehicle travels in the region and allowing drivers to pay to use high-occupancy vehicle lanes even if they have no passengers.
About $2 billion a year is needed to fund public transit improvements in the area, said Metrolinx CEO Bruce McCuaig.
While Ontario Premier Kathleen Wynne is betting big on transit expansion, Transportation Minister Glen Murray said the government will wait for Metrolinx's final report before making any decisions about raising taxes or levies.
Opposition Leader Tim Hudak left the door open to new tolls, taxes or levies if the Progressive Conservatives form the next government.
"Here's the bottom line: any kind of new tolls or taxes should be your last resort, not your first instinct, and we need to be very, very cautious about Liberal politicians who look all too eager to grab more money,'' he said.
With files from The Canadian Press