AP
Now that the 2013 major league baseball season is in full swing, even Canadian Carly Rae Jepsen is root toot tooting for the home team.
The British Columbia native traded in her glamorous red carpet gowns for a more athletic look this weekend while throwing the ceremonial first pitch at the start of the Baltimore Orioles and Minnesota Twins Game in Baltimore, Maryland on Sunday.
The 27-year-old "Call Me Maybe" singer looked cute as a button in the home-team's baseball t-shirt (which she tied up in a knot at the waist), dark blue skinny jeans and Adidas sneakers. She jazzed up the ensemble with a side braid, black sunglasses and minty blue nail polish.
Posing next to 6'4 player Baltimore Orioles player Jake Arrieta, the pint-sized pop star tweeted the photo below, which she captioned, "Somedays I feel shorter than others. @JArrieta34 of the @orioles #5'2Pride."
Check out the photos of Jepsen below and tell us what you think of her sporty look!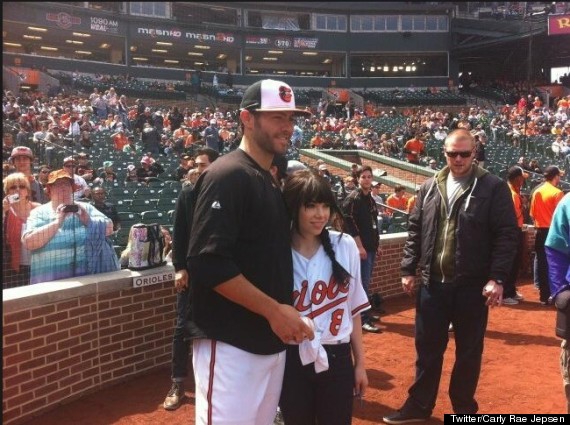 Carly Rae Jepsen's style evolution:
Carly Rae Jepsen's Tween-Leaning Style