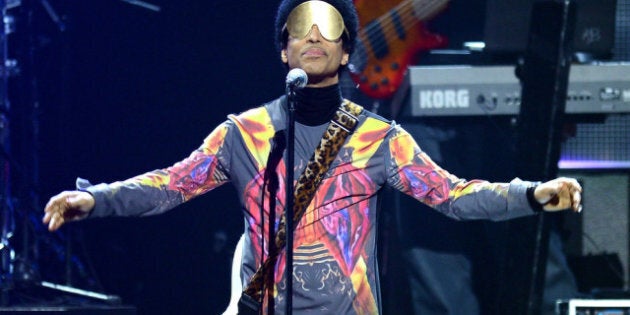 When Donna Grantis received an email asking if she fancied jamming with Prince, the Toronto-based guitarist's first thought was that this must be a joke.
"I was like, 'Who is this? Is this real?'"
A quick search on the Internet and a phone call later, Grantis realized her life was about to change forever. A week later she was on a plane to Minnesota, home of the Purple One's Paisley Park music emporium.
"I tried not to think about what a huge opportunity this was," she told Huffington Post BC, just days before Prince's Live Out Loud tour kicks off in Vancouver.
"I concentrated on the music I had to learn, because if you start imagining playing with such an icon… Well, you're heading for trouble."
Whatever she did worked. Grantis was offered a spot in Prince's new band, the all-female three-piece 3rd Eye Girl, with drummer Hannah Ford and bassist Ida Neilsen.
Prince and 3rdEyeGirl have been holed up in Paisley Park since early January rehearsing for "hours and hours" every day, only breaking to eat and hit the ping pong table. "Prince is really good at it," Grantis says with a laugh.
The band have been working on material dating from Prince's first album "For You" all the way through to the upcoming new album, tentatively titled "Plectrum Electrum."
A pre-tour gig showcasing music from the album was announced Friday. The tour launch party will be hosted by DJ Rashida at the Portside Pub in Vancouver on Sunday, April 14.
The actual tour opens at Vancouver's Vogue Theatre with double shows April 15-16. Live Out Loud will be a "more stripped down, edgier, sexier" affair, Grantis promises.
"It's going to be a full-on rock show," she says. "If you've always wanted to hear Prince just wail on guitar, this is the show for you."