Rob Watson's first Boston Marathon will be forever etched in his memory, but the elation he felt as the top Canadian racer was soon overcome by frustration and grief at bombings that rocked the finish line of the storied race.
Watson, who finished in 11th place with a time of 2:15, was settling into a celebratory lunch at the nearby Fairmont Copley Plaza Hotel when he heard "a really loud explosion."
"It sounded like a really loud thunderclap, so that's what I thought it was, but I looked out the window and it's a calm and clear day," said the London, Ont., runner, speaking to HuffPost Canada from his hotel about 800 metres from the blast site.
"Twenty seconds later there was another one, so after that happened, you knew it was something significant, but you didn't know what it was ... when something like that happens, unfortunately you think about 9/11 and stuff."
Story continues under gallery.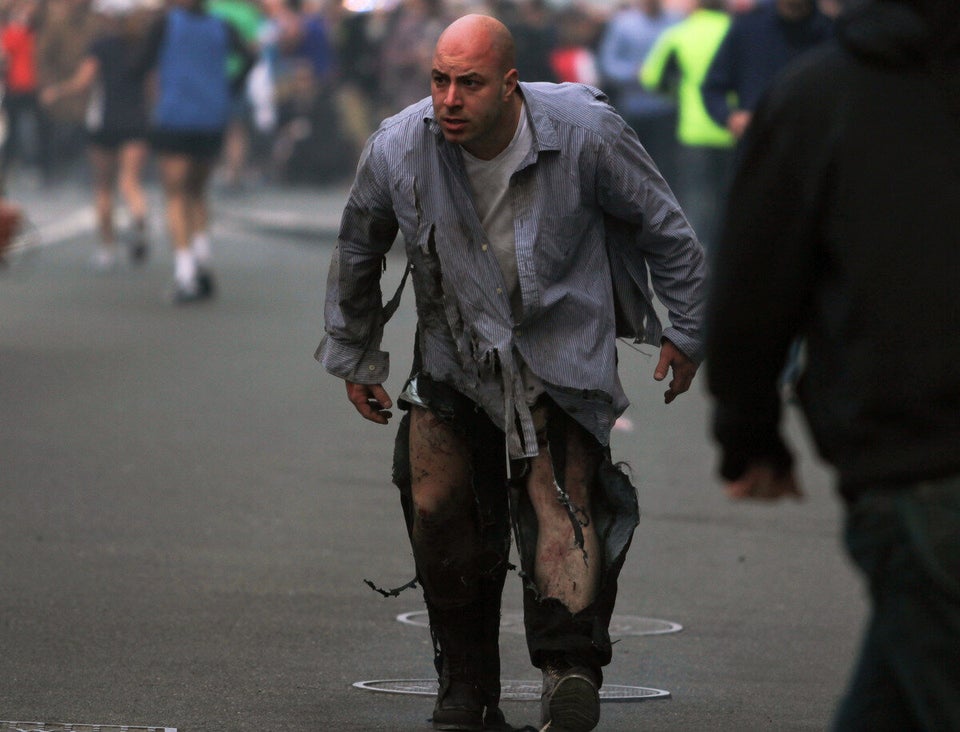 GRAPHIC WARNING: Boston Marathon explosion
Watson's thoughts went immediately to his friends and family at the event. Luckily, everyone he knows is accounted for and safe.
"You try and get hold of them as quick as you can and you can't so it's scary, you don't know how to react in a situation like that and there was a lot of upset people, it wasn't cool."
"It's kind of surreal in a terrible, horrible way because you don't expect it to happen, you're at the Boston Marathon, it's a road race, it's a marathon, marathons are celebrations and they're festivals and people are here for great reasons, they come from all over the world."
Many Canadian runners caught up in Monday's mayhem at the Boston Marathon expressed similar feelings of shock and anger at what they believe was an attack on their community at a race that has become one of the biggest events for Canadian running enthusiasts outside of the country.
Two explosions tore across the finish line at around the four-hour mark of the legendary race, sending runners and bystanders fleeing the area covered by debris, blood and plumes of grey smoke. The explosions left at least three dead and dozens injured, with the number of casualties expected to climb.
Marathon runner David Emilio heard the explosions after he had finished his marathon in at time of 3:11, about 45 minutes before the chaos erupted. The 45-year-old marathoner from Toronto -- who was with 20 other runners from the Toronto area -- said he's heard from most of the runners from his group.
"We heard the explosion," he said from his hotel room a block away from the finish line. "For us it was panic for about 10 to 15 minutes while we were waiting to see what happened."
People were in tears, and they knew something terrible had happened.
"It's just sheer, mixed emotions: Anger that someone is sick enough to do that. Everyone is half sad and half angry."
After the explosions, hundreds of ambulances started to stream into the area. "The electric feeling of Boston just died -- everyone was freaking out and automatically thought that something bad had happened."
The area hotels were locked down and as Emilio looked out of his hotel room, he could see the area beyond the finish -- tables were overturned, garbage bins searched. Small detonations were heard -- Emilio believes police were dealing with knapsacks left behind.
Emilio doesn't know if he'll do another Boston. For now, he says that all big city marathons -- Chicago, New York -- feel a little less safe.
Outside of the United States, Canadians represent the largest contingent of runners from another country: 2,083 registered participants, or 7.7 per cent of the 26,000 field, are Canadians.
Canadian Samantha Sykes said she feels the running community was "attacked."
The 30-year-old Toronto woman had seen a security presence before and during the race -- mentioning that she took a picture of what looked like a sniper. She said she saw Marines on her way to the Athlete's Village in Hopkinton, Mass., near the start of the race.
Sykes, speaking to HuffPost from her Beacon Hill hotel, finished her marathon with a time of around 3:30, about 40 to 50 minutes before the explosions. She had filtered into the finish area to grab her gear.
"It feels like a breach to be honest -- as a runner I feel like they attacked my friends," she said.
Sykes has several Toronto friends running the race from the Running Room and Lululemon clubs. She said she was trying to locate or message them.
Sykes said she'd seen hotels near the finish line in Copley Square blocked off as fears of other devices spread. She's been getting updates by TV at her hotel. At first, she didn't know about the explosions, until she started seeing all the messages from worried friends.
Michael Doyle, an editor at Canadian Running Magazine, had been watching Canadians cross the finish line about 45 minutes before the bombings. He estimates there were about 1,000 spectators near the line.
"Creepily enough, about 45 minutes before, I was exactly where the explosion apparently went off. It was the media, VIP and friends and family of the elite runners grandstand," he said from a locked down zone near a medical tent in Copley Park.
"I didn't hear a huge explosion or anything like that, it wasn't how you'd expect this scenario to play out like giant black puffs of smoke or anything along those lines."
Doyle grabbed his camera and managed to convince race volunteers to let him back inside a perimeter that had been set up. That's when he saw members of the FBI, local police, ATF and military arrive on scene.
"When I was getting closer to the situation, you could see a lot of people on their phones, a lot of people asking if they'd seen their loved one that had just finished the race, trying to figure out where everyone was, people were crying," he said.
"As you can imagine there was just a general state of shock."
He heard what he believes was a third explosion. Then the security presence was ramped up in front of the Fairmont Copley Plaza hotel, where many elite runners and race officials were staying.
Speaking with the Huffington Post Canada about an hour and a half after news of the explosions first broke, Doyle noted the crowd was beginning to "thin out.
"The volunteers, some are packing up and leaving, some are kind of just sitting down on park benches and staring off into space. People look pretty glum, pretty upset."
Laura McLean, another runner from Toronto, was in the medical tent being treated for dehydration when she was pulled out to make room for victims of the explosions.
McLean says she saw people who were "really, really bloody."
The blasts went off about four hours after the race began.
Conservative Member of Parliament Ryan Leef was clear of the four block-long finish area when he heard sirens coming from all directions toward the start line: He didn't hear any explosion.
"What a terrible thing to have happen to people, in what should have been their greatest of accomplishments," he said in an email to HuffPost Canada.
"My thoughts are obviously with my fellow runners, organizers, volunteers, spectators and the families of the victims. We'll all remember the 117th running of the Boston Marathon, but now, sadly, for a far different reason than we all wanted at the start line this morning."
Prime Minister Stephen Harper took to Twitter to express his shock at the news, saying his "thoughts are with those who are affected."
The Department of Foreign Affairs has set up an emergency line — 1-800-387-3124 — to offer assistance to Canadians.
With a file from The Canadian Press