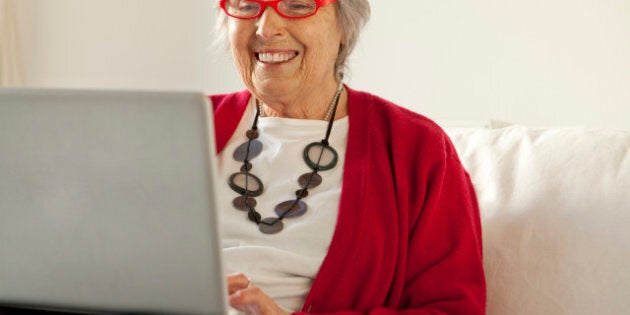 In their book, My Grandma Follows Me On Twitter: And Other First World Problems We're Lucky To Have, Craig and Marc Kielburger take a clever and light-hearted look at some of trivial frustrations in Canada and compare them to much more serious woes in the rest of the world.

The Kielburger brothers, founders of Free The Children, want people to think about their problems in a different way and perhaps make the world a better place while they're at it — as seen in some of the highlights of the book below.
First World Problem No 9: I scored the last seat on the bus, but the belly of the pregnant woman standing beside me keeps bumping my head.
Did You Know? 95 per cent of seniors and pregnant women have sorer feet than yours.
What You Can Do: Give up your seat for someone who needs it – there's a reason there are no reserved bus seats for able-bodied 20-somethings, people with hockey bags, or hangovers.
First World Problem No 15: My cottage doesn't have Internet so I can't update my Facebook to tell everyone I'm at the cottage.
Did You Know? The average Canadian surfs the Internet 45 hours a month, mostly posting wildly glamorous party pictures of themselves or watching videos of rodents on water-skis.
What You Can Do: Enjoy a weekend away reconnecting with nature and your family. Hitting social media withdrawal? Shout out "Like!" every time you see something interesting.
First World Problem No 22: I had to buy an extra bag of Cheesies to get to $5 so I could use Interac at the corner store.
Did You Know?On average, businesses pay 19 cents for each Interac purchase, and between two per cent – four per cent of the total sale for every credit card purchase.
What You Can Do: Pay cash at your local independent small business, and forego the few frequent flyer miles that equal 1/1,000 of a free flight (taxes, security and airport fees not included).
First World Problem No 37: My grandma follows me on Twitter
Did You Know? 99.9 per cent of grandmas would suffer a health crisis if they saw what you post on your social media of choice — or at least skip your plate in dealing out fresh apple cobbler on your next visit.
What You Can Do: Show your grandma some love, and stay in touch with a handwritten update letter. And save any raunchy stuff for Facebook with privacy settings — Grandma's happy and you get more than 140 characters.
First World Problem No 94: I have 100,000 frequent flyer miles, but can never get a flight home at Christmas.
Did You Know? Almost eight trillion miles — enough for 80 million free return flights to Australia — are held by people who save, but don't redeem, their travel perks.
What You Can Do: Contribute your unused miles to charities — like Doctors Without Borders, North Humberland Hills Hospital Foundation and others — through Aeroplan's Beyond Miles program. Why not share your air?
Are there some "problems" that you may now re-think and possible actions that can make a difference? Let us know in the comments below.
All sale proceeds goes directly to Free the Children. In addition Me to We donates a notebook (for each sale) to a child in a developing country.