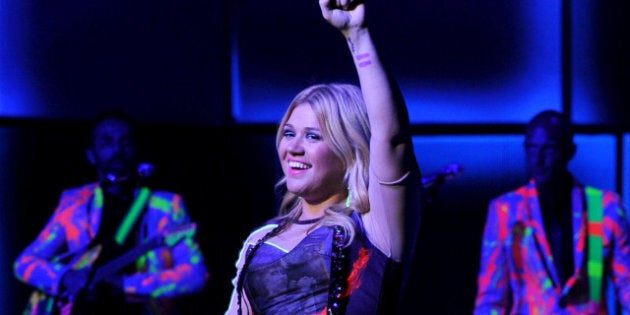 I wanted Justin Guarini to win "American Idol."
Week after week, I'd follow the brand-new Fox reality show, which pitted wannabe pop stars against each other in a fan-voted singing competition.Then hosted by Ryan Seacrest and Brian Dunkleman (remember him?) and judged by Simon Cowell, Paula Abdul and Randy Jackson, 'Idol' became an instant television and pop culture hit with its simple premise, witty and refreshingly harsh critiques and, of course, talent. Runner-up Guarini charmed viewers at the time with his curly locks and winning smile, but admittedly, I don't remember his voice at all. Heartthrob culture: it's a legitimately blinding phenomenon among impressionable young girls.
Although I actively campaigned against winner Kelly Clarkson — I distinctly remember yelling at my sister to cheer for Guarini or keep quiet as I watched the finale — her voice was undeniably memorable. She might have slid through the preliminary rounds of the show, as Cowell pointed out that he barely remembered her initial audition, but eventually her voice took centre stage every week.
From the bone-chilling rendition of Aretha Franklin's "(You Make Me Feel Like) A Natural Woman" to the first time she performed her first single, "A Moment like This," Clarkson made sure her voice was noticed and still ringing in your ears as you picked up your phones to vote. Never mind those embarrassing highlights in her hair, she had "the voice" (wrong show, but she'd surely beat anyone on that show today).
This week marks the 10-year anniversary of Kelly Clarkson's debut album, "Thankful," a lukewarm introduction of a record, but an important first step to her now-successful multi-million-selling career. On the strength of her Idol supporters, "Thankful" debuted at number one on the Billboard 200 and single "Miss Independent" went on to be certified double-platinum. Still, critics weren't convinced that this reality idol had what it took to become a true pop star. This despite meanie Cowell telling Clarkson "I truly, truly believe that you're going to become a big star at the end of this competition" during one "Idol" episode.
Entertainment Weekly described "Thankful" lead single "Miss Independent" as a formulaic pop song where "the wholesome Clarkson looked like she had swallowed Christina Aguilera and was regurgitating her all over the stage," before deeming the album an "unfortunate makeover" from the star we fell in love with the previous year.
It was unanimous that there was talent within Clarkson, but a heavily managed production and writing team (even though she co-wrote four songs, there are over 15 other songwriters credited on this album) dictated the direction of "Thankful" too much. Rolling Stone pointed out "'Thankful' is a testament to marketable young ladies with more talent than artistic freedom."
So much for being Miss Independent.
Her label RCA went on to release two more singles from the album, "Low" and "The Trouble With Love Is." The latter gained recognition as a pivotal song on the soundtrack for the 2003 romantic comedy, "Love, Actually," but both songs are otherwise forgettable.
This was not Clarkson's finest moment and that frustration was palpable, almost threatening the end of a career that had barely started. In fact, this remains a cautionary roadblock for many "Idol contestants today. How does one get over such a hurdle? Ruben Studdard couldn't get past it, Taylor Hicks struggled, and do we even remember who Kris Allen is anymore?
For all these stumbles, "Idol" has produced many great musicians, including country giant Carrie Underwood, R&B darling Jordin Sparks and Philip Philips, that guy with a doubled-up name who sings about home a lot. And the simple key, as Clarkson explained in a recent interview, is to stick to your guns and do things your own way.
Before "Idol," Clarkson turned down two record deals because she didn't want to be controlled. In an interview with the Wall Street Journal, she said, "I knew I was meant to be a part of that career, not just some puppet."
So, it was only natural that her desire for control began to take over soon after "Thankful's" micromanaged effort.
Clarkson followed up her debut with "Breakaway" in 2004, which saw the singer take a greater role in writing. She continued to deliver the hits and slowly but surely began convincing critics and fans that she was here to stay and was finally able to craft her own sound, one that was more rock, but still filled with pop hooks and highlighted her winning voice.
On that first album she was well on her was to becoming Miss Independent — as evidenced by recent revelations about her battles with music legend Clive Davis over writing her own material. Sure, things were bumpy at first, but we're thankful that Clarkson and her fanbase stuck it out together to to the end.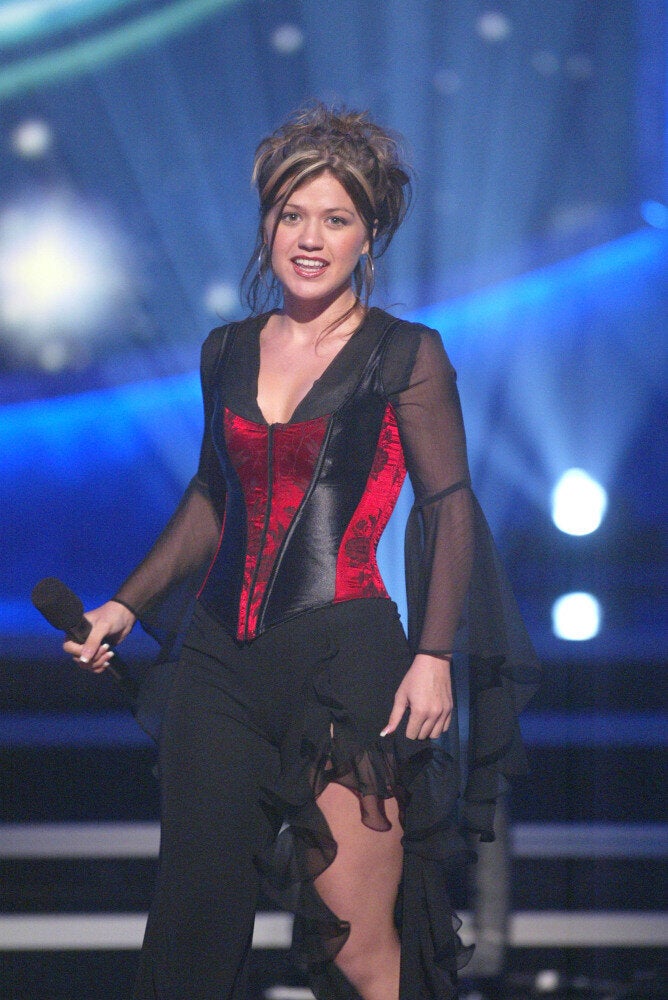 Kelly Clarkson's Style Over The Years