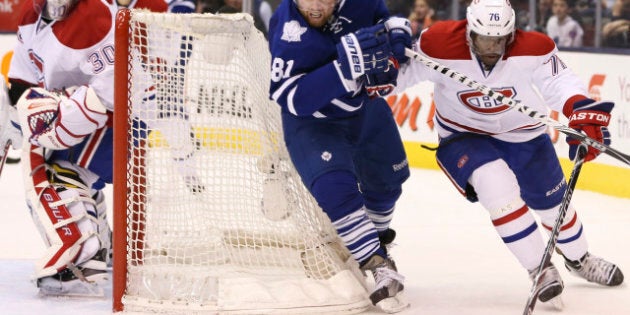 Unlike last year, which saw only the Vancouver Canucks and the Ottawa Senators in the post-season, Canadian hockey fans will have plenty to cheer about this year. As of April 15, four Canadian teams look like they'll be in the playoffs and the Winnipeg Jets could also sneak in if they can have a late season winning streak.
The Montreal Canadiens (57 points), currently sitting in second in the Eastern Conference, have already clinched a playoff spot. Toronto (51 points) and Ottawa (48 points) are sitting at fifth and sixth respectively. While Winnipeg Jets are just outside of the last spot in 9th.
The Vancouver Canucks (52 points) are the lone Canadian team coming out of the west. Both Edmonton and Calgary are well out of playoff contention.
For Leafs fans, this would be the first playoff series since 2004. While Montreal fans will be thrilled to be back in the playoffs after their team had to start golfing early in 2012. The Senators almost surprised the Rangers in their opening round series last year, while Vancouver will be looking to avenge their first-round knockout by the Los Angeles Kings.
According to Sportsclubstats.com, both the Canucks and the Leafs are 99% likely to make it into the playoffs, while Ottawa sits a bit behind at 97%. The Winnipeg Jets have just a 32% chance to get into the post-season.
The Pittsburgh Penguins are the heavy favourites coming from the East but injuries to forwards Sidney Crosby and James Neal have put a dent in the team's offence. The Chicago Blackhawks have continued their blistering pace and are 8-1-1 in their last 10 and lead the entire Western Conference with 68 points.