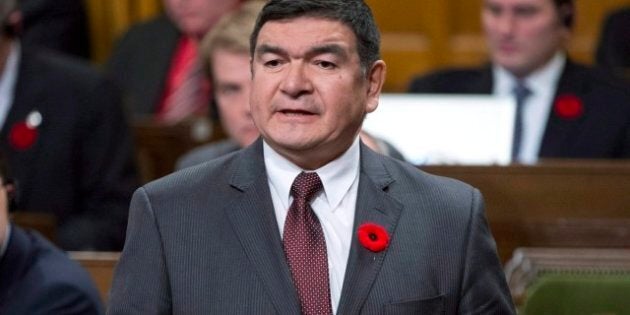 Former federal cabinet minister Peter Penashue is trailing badly in the lead-up to the byelection in Labrador, according to a poll released today.
The VOCM-Abacus Data Labrador poll found that 63 per cent of respondents plan to support Liberal candidate Yvonne Jones, the former provincial representative for southern Labrador.
Penashue is 43 percentage points back with only 20 per cent support. NDP candidate Harry Borlase has 17 per cent support among those polled.
The random live-interview telephone survey commissioned by VOCM was conducted with 500 eligible voters living in the Labrador riding, giving a margin of error of plus or minus 4.38 per cent, 19 times out of 20.
The survey was completed April 10 to 12, one month before Labradorians are to vote in the byelection.
Penashue resigned earlier this year, vowing to go to voters after he admitted his campaign had accepted illegal donations prior to the May 2, 2011, federal election.
Penashue expects to return to cabinet
Last week, Penashue told a crowd of supporters that he'd held up projects for Newfoundland in order to guarantee money for Labrador. He also said he expected to be put back in cabinet. He had held the intergovernmental affairs job, although over nearly two years most of his ministerial travel budget went to flights back to Newfoundland and Labrador, not to other provinces and territories.
In question period, Liberal MP Scott Andrews asked if Prime Minister Stephen Harper would reveal which projects Penashue had held up in Newfoundland.
"Can he help poor old Peter out and inform this House exactly what projects were held up, or was Peter just making it up?" Andrews asked.
Conservative MP Pierre Poilievre listed projects he said Penashue brought to Labrador.
"He has helped scrap the long-gun registry, defended the seal hunt. This is a solid track record of delivering for his constituents and now he will have an opportunity to defend that record of achievement in front of them," Poilievre said.
The poll suggests Penashue's popularity has fallen to half of what it was when he won the 2011 election with 40 per cent of the vote. In 2008, Labrador Conservative candidate Lacey Lewis took eight per cent of the vote.
Then-Liberal MP Todd Russell took 70 per cent of the vote in 2008 and lost to Penashue in 2011 when he garnered 39 per cent of the vote.
The NDP received 18 per cent support in the 2008 election and 20 per cent in 2011.
Penashue won by 79 votes in 2011. Voters will cast their ballots in the byelection on May 13.