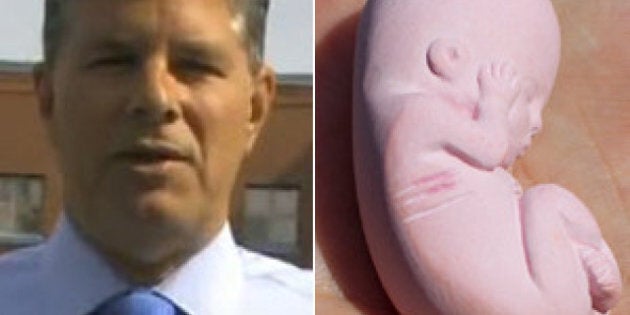 Conservative MP Mark Warawa is dropping his bid for a vote on his motion to condemn sex-selective abortion, an issue that caused several MPs to split with the rest of the party's caucus in recent weeks.
Warawa told reporters on his way into the House of Commons that he is tabling a bill tomorrow that deals with sex offenders who serve house arrest in the same neighbourhoods as their victims, revictimizing them when they encounter each other in the community.
The House notice paper lists Warawa's intention to table a bill to amend the Corrections and Conditional Release Act provision on restrictions on offenders. Warawa referred to it as the "safe at home" act.
The best way to move forward on sex-selection abortion, he said, is to speak about it and debate the issue at events across Canada.
"I'd be honoured to go across the country and speak with Canadians that feel this is an important issue and I'm also honoured to be able to introduce my bill," he said.
Warawa was twice blocked from having his motion debated and voted on in the House. The motion, M-408, was to condemn sex-selective abortion, but opposition MPs said they feared he was trying to reopen the abortion debate.
Unrelated bill 'important to constituents'
A subcommittee declared the motion non-voteable, and the main committee upheld that decision, leaving Warawa with three options:
- To replace the motion with another private member's bill or motion.
- To appeal to the House for a secret ballot vote on whether to overturn the decision.
- To do nothing, leaving the motion to be debated for an hour, but not voted on.
The MP for Langley, B.C., could have appealed the decision to the House for a secret-ballot vote on whether the motion could be voted on.
"I came to the conclusion about half a week ago that the best way to move forward would be to work constructively in Parliament, not go to a vote of appeal, and move to a motion or a bill, in this case a bill, that is very important to my constituents to deal with sex offenders serving sentences in the riding," Warawa said.
Warawa said three weeks ago that he had the necessary support to appeal the committee's decision. An appeal would have required the backing of five MPs from at least two recognized parties.
Prime Minister Stephen Harper has consistently said he doesn't want to reopen the abortion debate, leaving some MPs to argue Warawa had to be prevented from bringing his motion to avoid breaking that promise.