CP
Bank of Canada Governor Mark Carney warned on Thursday the bank could raise interest rates if the growth in household debt doesn't slow.
It was a blunt statement meant — at least in part — to show that Canada's central bank chief, who heads to the U.K. later this spring to take the same job at the Bank of England, is prepared to act to curb Canadian consumers' mushrooming debt levels.
But some analysts argue the warnings are little more than just talk. After all, Carney has kept the bank's interest rate around one per cent for four years, which some observers say has led to the large house price increases of recent years, which in turn has forced Canadians to take on more debt.
Granted, there was good reason for those low rates — the financial crisis, and the slow growth that followed. Pretty much all the world's central banks dropped their interest rates to rock bottom, and Carney simply followed suit. But did Carney follow too far, and allow Canadians to become too heavily indebted?
With evidence building that Canada's economy is slowing (Carney himself downgraded the country's economic outlook on Wednesday), some analysts are blaming Carney for record Canadian debt levels.
In a note to clients earlier this week, Brown Brothers Harriman chief currency analyst Marc Chandler declared that Carney "is leaving Canada as the proverbial bloom is coming off the rose."
"The economy is under-performing [and] excesses are evident in the housing market and households," the analyst wrote.
Besides suggesting that Carney is leaving just as his legacy is about to take a hit, Chandler also seemed to be suggesting that Canada is in for a reckoning over sky high household debt levels.
As evidence, he pointed to a chart from JPMorgan that shows Canadians are taking on more debt even as consumers in other countries are paring down theirs. Canadian household debt hit a record high of 165 per cent of average household income last month, according to Statistics Canada, and Canadians are now among the most indebted people in the world.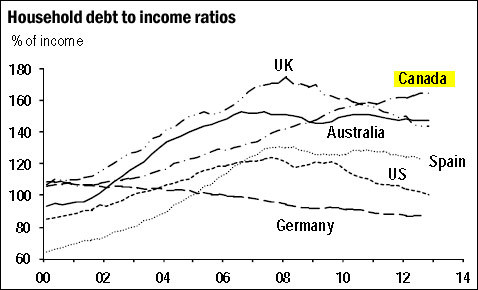 That makes Canadians particularly vulnerable to an economic slowdown; if you're already spending every last penny you have covering bills and debts, any reduction in income is going to have a real impact, especially when interest rates inevitably rise.
Last month's abysmal jobs report, which showed the economy lost some 55,000 jobs in March, combined with weak exports and falling commodity prices, make the country a strong candidate for economic problems this year. The IMF recently projected that Canada would be among the worst performing of the major economies in 2013.
The collapse in the price of gold this week could prove to be even more trouble for Canada, which is the world's seventh-largest gold producer. Moody's ratings agency this week said it's reviewing Toronto-based Barrick Gold, the world's largest gold miner, for a possible downgrade.
Carney is seeing the same trends, and on Wednesday reduced the forecast for Canada's growth to 1.5 per cent from two per cent for 2013. But that only subjected him more criticism.
Carney "gets a bad grade for forecasting," the Globe and Mail declared Thursday.
"It's true that [the Bank of Canada has] been a little bit more optimistic than the consensus [of private sector forecasters], and they continue to be very optimistic, at least for 2014," National Bank of Canada economist Krishen Rangasamy told the Globe. "Governor Carney is probably not going to be remembered for his forecasts."
Carney was supposed to be remembered as Canada's "superstar" central banker, the man who kept the country out of the global financial crisis (a credit he may not deserve).
But now it appears he may also end up taking the blame for years of excessive borrowing and potential asset bubbles in our economy. If so, his departure to the U.K. may be something he actually timed perfectly.
Also on HuffPost
Mark Carney: What The British Press Are Saying