Alamy
The architect behind Calgary's Peace Bridge is being asked to pay for a leaky winery roof.
Spanish architect Santiago Calatrava has been asked by Ysios winery to fix the undulating roof, after it has repeatedly failed to keep out water.
Gawker reports the owner of the winery is tired of trying to patch the roof himself and is asking Calatrava for the money to pay someone to build a new roof.
According to The Guardian, Calatrava built the Spanish winery 12 years ago, constructing the problematic roof from wood and aluminum. In the passing years, however, the roof has continued to leak and the owner of Ysios says the leaks are damaging the winery's image.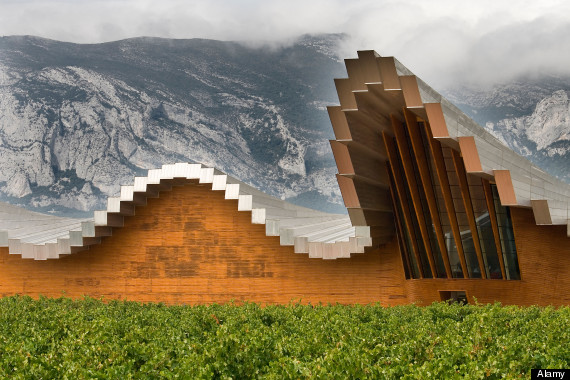 (The undulating wood and aluminum roof of the Ysios winery in Spain. (Alamy))
The demand follows on the heels of several controversies Calatrava has faced for his designs. His Palau de Les Art in Valencia, Spain has been shedding ceramic outer tiles after they began to shake loose earlier this year - and the city is fed up with the project's ballooning budget.
The Guardian reports opposition politicians in Valencia claim the budget for the giant arts and science project has quadrupled and demand that he give some of the money back.
As well, Calatrava's Zubizuri footbridge in Bilbao, Spain had to undergo resurfacing after the original walkway was built with translucent glass bricks, causing dozens of people to fall on rainy days.
According to eitb.com, the City of Bilbao had to pay Calatrava 30,000 euros ($40,000 CAD) for infringing on the architect's rights.
Calatrava's Calgary project, the Peace Bridge, has been the centre of much controversy in past years. Many citizens were frustrated after the bride contract was awarded Calatrava - a foreign architect who single-sourced the design.
Additionally, the project ran over-budget and more than 15 months behind schedule.
Also on HuffPost
Azure's Top 10 Architectural Projects of 2012