The campaign, first conceived by Sexual Assault Victims of Edmonton (SAVE) in 2010, targets sexual assault of all types, including same-sex assault. The campaign targets the actions of the offender and stresses that the offender is responsible for changing their behaviours.
One poster, featuring large white letters on a black background, reads "Just because she's drunk, doesn't mean she wants to f**k."
Story continues after the slideshow...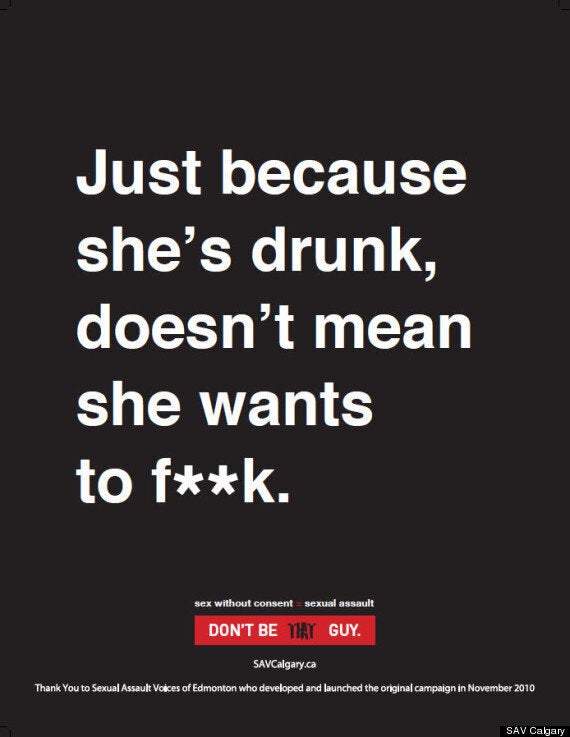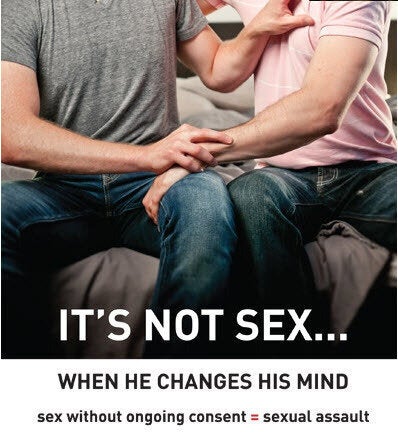 "Don't Be That Guy" Campaign
The posters will be featured on Calgary Transit, as well as nightclubs and pubs around the city.
Danielle Aubry, Executive Director at Calgary Communities Against Sexual Abuse, told the Calgary Beacon, "in the past we have been conditioned to believe that certain groups of people have created situations where they are responsible for their attack. But we see that past prevention techniques don't work, and do not challenge the root cause of sexual violence. These techniques instead put the blame of an assault on the survivor and removes all responsibility from the person who committed the crime in the first place."
CPS Staff Sergeant Ryan Jepson told CTV "most men will never commit a sexual offence, however, we know that the majority of reported sexual abuse and sexual assault offences are perpetrated by men. In some studies, the percentage of reported offences committed by men is as high as 97 per cent."
The Globe and Mail reports the number of reported sexual assaults in Vancouver fell by 10 per cent in 2011 - the same year the ads were featured around the city. It was the first time in several years that there was a drop in sexual assault activity in Vancouver.
"The blunt language and challenging images are meant to draw attention to our core message, and that's that sexual contact without ongoing and active consent is sexual assault," Lise Gotell, chairwoman of women studies at the University of Alberta told the Edmonton Journal last fall.
More information about sexual assault and the laws surrounding it can be found on the SAV Calgary website.