Getty Images
It looks like hackers have gotten to the Twitter accounts of FIFA President Sepp Blatter and the official FIFA 2014 World Cup Twitter account.
Both accounts began posting messages related to corruption and the organization's relationship with wealthy Middle Eastern countries.
"FIFA executives held a meeting regarding the decision to host the 2022 World Cup in #Qatar," the FIFA account tweeted shortly before 1:00 p.m. ET.
"It was decided that the president Sepp Blatter is to step down due to corruption charges," the account quickly followed.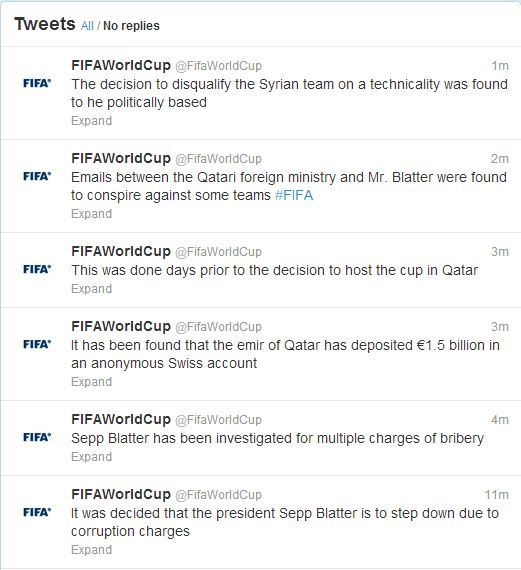 Blatter's account pointedly made references to his relationships with members of the Qatari royal family.
"So what if I took money from Qatari prince? I am the family's bread earner," the account tweeted out complete with a photo of Blatter with members of the Qatari royal family.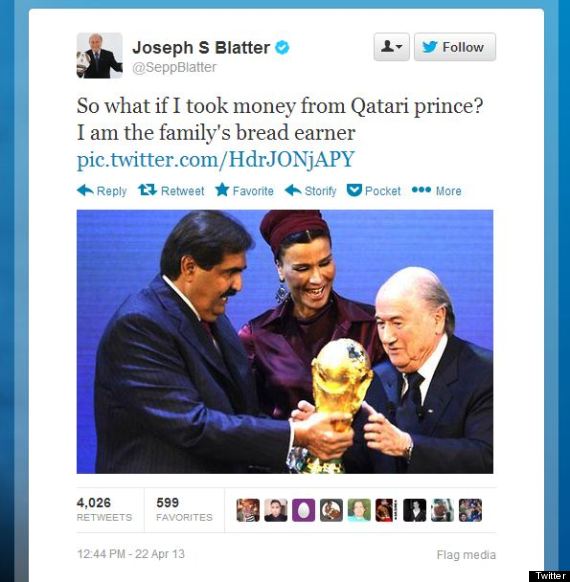 Both accounts shortly revealed that they were hacked by the Syrian Electronic Army. "Syrian Electronic Army Was Here ... Follow @Official_SEA6 for the truth! #SEA #Syria," they wrote. Blatter's account has more than 392,000 followers and many of the hacked tweets were widely shared.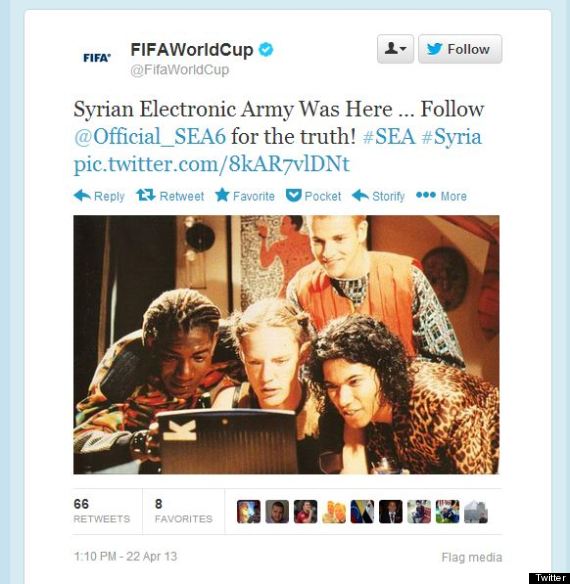 The pro-Assad Syrian Electronic Army has been responsible for a number of high-profile hacks recently, including a recent hack of 60 Minutes' Twitter account. The group also defaced a number of NPR's websites. Twitter has been struggling to stop the hacker group.
FIFA, soccer's global governing body and organizers of the World Cup, has a long reputation for corruption.
An anti-corruption adviser brought on by FIFA resigned due to the group's inaction.
Grantland's Brian Phillips also outlined the deep corruption in the global body.
"FIFA executives tend to be vain bureaucrats and unctuous politicians rather than cutthroat businessmen. From an economic standpoint, their only real purpose is to control the point of access to the World Cup, from which the organization derives 87 percent of its income. FIFA's top executives are thus in a position to be courted around the clock by massive corporations, which want to secure one of the competition's prized sponsorships, and by governments, which want the prestige of hosting the tournament," Phillips wrote.
Also on HuffPost
15 Hilarious Sports Fails