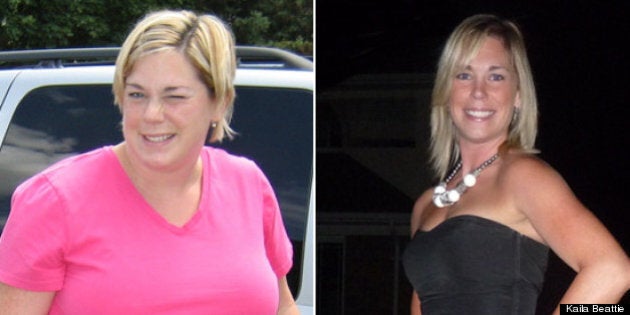 WHO: Kaila Beattie, vice president business development at Craigwood Estate Furniture
By The Numbers: 250 at my heaviest, and currently 150 — a total loss of 25 per cent body fat.
The Weight Gain: I was a healthy and active averaged sized child. My weight gain began when I became pregnant with my first child. I had four children in less than six years and by the time I delivered my last one, I was 250 pounds and had gained 110 pounds. It wasn't all "baby weight!"
As I had my kids close together I decided that I would not fight my weight gain during or in between the pregnancies. I knew I would tackle it when I was done having babies. There was not enough time in "diaper land" to think about myself.
The Final Straw: My youngest was a newborn, and I remember sitting there with him watching my older children playing. They were camping, and loving it. Going to the beach, playing football, running around and being active. I knew that I couldn't participate with them because of my weight. I hated how my body jiggled, it was embarrassing. It was like a switch had been flipped. I knew my dream of losing the weight had to become a reality. I wanted so desperately to be able to be active with my kids too.
Story Continues Below Check out more of our inspiring weight loss stories: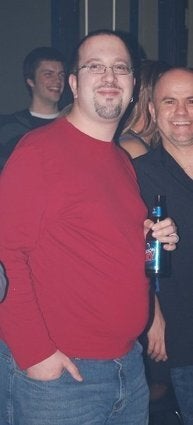 Lost It: Weight Loss Success Stories
The Plan Of Attack: While receiving regular adjustments at a local chiropractic center, it was suggested that I attend an upcoming "Maximized Living Seminar," run by my chiropractor, Dr. B.J. Hardick, where his main focus was on nutrition, fitness, and a healthy lifestyle. As I sat and listened to all of the information he presented, my jaw was on the floor. I realized how drastic some of the modifications would need to be in my life, if I was going to make a change. I was always very confused as to which mainstream diet I should try and the benefits of each. His approach answered all of my questions, including the "how" and the "why," and it just made sense. Although I left the seminar overwhelmed, I was motivated enough to throw away virtually everything in my cupboards, and start over.
The seminar also helped me realized that I wasn't only responsible for my own health, but that of my four little ones too. I realized what I was feeding them was not nutritious and would eventually hurt them, too. In time, I discovered that I didn't have to keep them strictly on the foods I was eating, however we made a number of family changes and they, too saw health improvements.
I lost 100 pounds in 10 months. I had to make some important decisions in my life, as I needed to be surrounded by positive people supporting my changes. People who constantly questioned my goals, or were negative influences, slowly faded away.
The Food Element: I eat veggies (lots of them!), lean proteins, healthy fats and whole foods. I chopped veggies every other day and stored them in containers in the fridge for any moments I became hungry. One of my keys to success was having my meals planned and prepared ahead a time. My favourite foods now became plant-based protein shakes (I love the Vega brand), extra lean turkey meatballs, spinach salads with homemade salad dressings, barbequed chicken breasts, stir-fries, chili, and egg white omelettes.
I also gave up sugar, starchy carbs, vegetable oils, white flour, conventional dairy, processed foods, preservatives and additives. No more fast food! Detoxifying from my addiction to sugar was the most difficult thing at first, though Dr. Hardick ensured me that once I was sugar and starch free for two weeks that I would barely notice. I gave it a try and he was right, and I couldn't believe it – the cravings stopped.
The Exercise Factor: I set a goal to run a half marathon 10 months from the day I started a healthier lifestyle. Joining a gym that offered a family membership ensured that I had no excuses. It also got my kids involved. I knew that training outdoors for a half marathon would be impossible for me with four kids, so I found a half marathon training schedule and ran four times a week on the treadmill.
I also hired a trainer who helped me weight train twice a week. Once I got two weeks into exercising, I was hooked. The feeling I had at the end of a good workout couldn't be beat. The mood it gave me lasted throughout the whole day. I stopped focusing on weight loss and instead looked forward to my next workout.
My fitness goal was to increase my lean muscle mass and decrease my body fat from 47 per cent to a healthy 22 per cent currently. The weight loss is just a side effect of making a healthy lifestyle change.
The Current Day-To-Day: On top of continuing to focus on a healthy diet each and every day, I now do high intensity, burst/interval training one to two times a week, and I strength train with weights two to three times a week.
I'm proud to say that I have DONE IT as a single mom, maintained results for five years, and hopefully been an inspiration to others. I've followed a tight budget and still been able to do it. I truly believe that if I have been able to achieve results, ANYONE can. It's all-too-easy to sit back and worry, plan your life away, and talk about all the things you will need to do to begin. Most people just need to start! Then, the moment you see those first few pounds start coming off, and feeling your clothes fit better, and your mind feeling brighter, you will be hooked.
Have a success story of your own? Send it to us at CanadaLiving@huffingtonpost.com and you could be featured on the site.