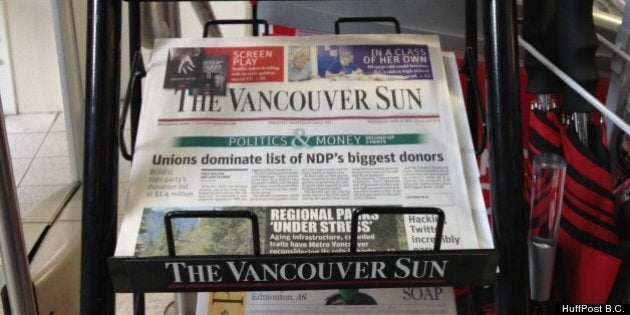 In what is being described as one of the bluntest newsroom memos ever seen, an internal document to Vancouver Sun and Province staff announced impending dramatic staff reductions in order to keep the business sustainable.
The leaked memo, sent by Gordon Fisher, Postmedia's Pacific Newspaper Group president and publisher, warns that a round of voluntary buyouts will be followed by forced economic layoffs, and that both senior and junior staff will be let go in the process.
"If there is anyone left who truly believes we can wait this out, or rely on 'hope', you are not mindful of reality," Fisher writes in the memo.
Story continues below gallery
The move follows "alarming and unprecedented revenue declines" mostly from the loss of print-based advertising.
Postmedia Network Canada Corp., which also owns the National Post and a slate of other newspapers and websites, has been struggling with the decline of newspaper ad revenues for years.
In April, Postmedia reported a $14.2-million loss in the second quarter, while the company's revenue fell 10 per cent to $178.8 million between December 2012 to Febriary 2013.
As an effort to reverse revenue decline, paywalls for all its newspapers are planned. Staffing cuts in the company's manufacturing, marketing and circulation departments have also rolled out.
Both The Vancouver Sun and Province newsrooms have been offered voluntary buyouts in the past, but this time PNG will be turning to the details laid out in the collective agreement to reach the level of cutbacks deemed necessary.
The number of employees PNG needs to take buyout packages was not disclosed.
Fisher also stressed the company "must focus not on the nostalgic past, but on the urgent need for change." He also asked employees to review their contribution to the newspapers' future.
"If you do anything every day of the week let it be this: ask yourself if you are part of the solution or willing to be part of the solution," Fisher notes.
"If you aren't part of the solution, ask yourself why that is. We are all in this together and we are all fighting not only for the future of the Vancouver Sun and the Province but for the lives and well-being of our families."
With files from The Canadian Press