Joe Fresh's owner, Loblaw Co., held an emergency meeting with the Retail Council of Canada Monday to discuss how the company will address a deadly collapse at a Bangladesh factory that made clothes for the Canadian chain of cheap chic fashions.
"We are committed to finding an approach that ensures safe working conditions, drives lasting change in the industry and helps prevents other tragedies," the company said in a statement.
UPDATE: Loblaw says it will provide compensation for families of the victims who worked for its supplier in Bangladesh.

"We are working to ensure that we will deliver support in the best and most meaningful way possible, and with the goal of ensuring that victims and their families receive benefits now and in the future," spokeswoman Julija Hunter said following the Monday afternoon meeting.
Joe Fresh is facing a backlash from customers angered by news of poor and unsafe working conditions at the Bangladesh garment building that collapsed last week. At last count, the death toll in the tragedy had reached 377.
Police had ordered an evacuation the day before the collapse due to deep visible cracks in the walls. The factories' owners ignored the order and told more than 2,000 workers it was business as usual. Bangladesh authorities arrested the owner of the building on Sunday.
"Once it has been proved that they are enforcing safe, humane, dignified working conditions to all the manufacturers, I will once again buy Joe Fresh/Loblaws. Until that day, I will boycott their merchandise and stores," said one commenter.
"Your words are hollow and far too late for the many victims of this travesty. Loblaws has profited handsomely no doubt from the abominable labour conditions in which those workers operated on a daily basis," another wrote.
Loblaws executives are attending the meeting with other Canadian retailers and the Retail Council's Responsible Trade Committee to discuss how to move forward.
However, the company would not say whether it plans to sign onto the Bangladesh Fire and Building Safety Agreement, a binding solution that would create rigorous inspections, transparency and oversight, which is being advocated in a petition by the International Labour Rights Forum.
Story continues below slideshow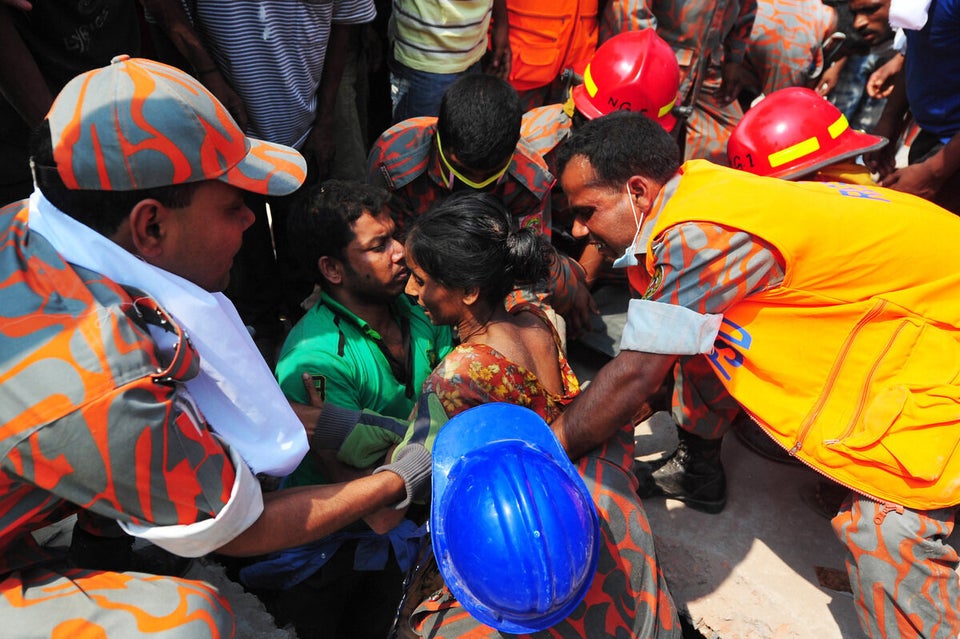 GRAPHIC WARNING Bangladesh Factory Collapses
Any obligations Joe Fresh has in this case are ethical or moral, rather than legal. Still, whether Joe Fresh can save face depends on how it navigates this crisis, experts say.
The backlash Joe Fresh faces over its outsourcing so far has been more contained than what Royal Bank of Canada faced in its own outsourcing scandal earlier this month, when news broke that it was axing 45 employees and forcing them to train their Indian replacements.
The difference is that RBC's scandal hit closer to home and involved Canadian jobs, said Anil Verma, a professor of global industrial relations at the University of Toronto.
"But in this case, we don't know these workers, most Canadians have never been to Bangladesh, there's a kind of disconnect at the human level, even though it's a far greater tragedy."
"If this were a factory in Nova Scotia or B.C. and if this building collapsed, or there was a fire or something, it would have a bigger impact."
But if Joe Fresh doesn't announce meaningful change, the brand could face further damage, he said.
"They have to rebuild that trust with consumers."
A big Canadian company could make an impact by picking only suppliers committed to improving their systems, rather than those who meet the bare minimum requirements to pass audits, Verma said.
"What Joe Fresh and others could do is do a better job of selecting who they deal with and look at the quality of management, look at the leadership, look at their motives and weed out those that tend to be short-term and profit-focused."
Loblaws said it has sent senior representatives to meet with local officials in Bangladesh "to get a precise response on what caused this tragedy." The company added that it has also spoken with the federal government, international audit companies and Canada's Maquila Solidarity Network, which promotes better wages and conditions for workers in export processing zones.
"Our audits align with those of industry around the world, but we recognize that these measures do not address the issue of building construction or integrity," it said.
"Loblaw is committed to finding solutions to this situation by expanding the scope of our requirements to ensure the physical safety of workers producing our products."
The collapse was "a tragedy of a poor, corrupt country without good institutions," said Keith Head, a professor at the University of British Columbia's Sauder School of Business.
"Joe Fresh bears some responsibility for doing work there, but how are that country's conditions going to improve without growth and rises in income, which we're seeing in Bangladesh? It's developing at a fairly rapid clip, in large part thanks to these exports, so it's really hard."
Still, he added, Loblaws has the leverage to pressure the employer into taking a day off of production rather than seeing workers go to work in a cracked building.
"I think a company has a responsibility to try and take those actions that would make the workforce safer, even though those people are employed by another firm," he said.
"I expect they get clothing, T-shirts, delivered to them according to spec and they don't ask a lot of questions. Maybe they should ask more questions."