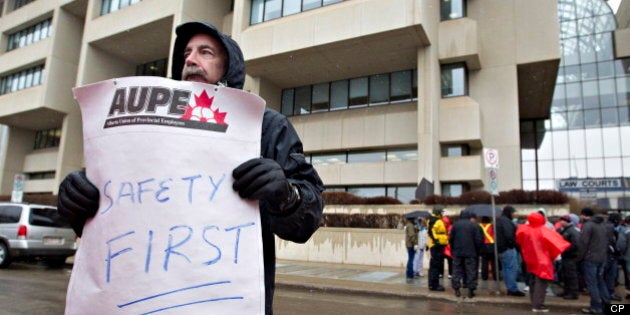 Alberta prison guards and sheriffs remained off the job in an illegal strike Tuesday, despite the doubling of fines against their union.
Deputy Solicitor General Tim Grant said at a press conference Tuesday afternoon that all the court sheriffs in Calgary have returned to work and he expected all sheriffs in the province to return to work by the end of the day.
But Susan Slade of the Alberta Union of Provincial Employees says that isn't completely true.
She said sheriffs in Calgary have not returned, and are in for the long haul.
"I think that's kind of a scare tactic to intimidate our workers to go back into work, saying that there are people who are crossing right now," said Slade.
"The sheriffs are still out in Calgary and Edmonton, and as far as I know they are planning to stay out."
Grant said all the court services staff in Edmonton and Calgary and all the probation officers in rural areas of Alberta have returned to work.
Contradicting statements
Provincial officials said roughly 50 per cent of probation officers in Edmonton and Calgary remain off the job, as well as six court workers in Peace River.
About 42 staff from the jails have crossed the picket line and returned to work, Grant said. He also said the Medicine Hat Correctional Centre is back to normal operations today.
However, he said "a reasonably significant" number of people have called in sick.
"We haven't tracked those numbers, but that's an indication in my mind that they want to come back to work but they're scared to cross the picket line," Grant said.
The Alberta Union of Provincial Employees (AUPE) was fined $100,000 Monday night after a judge found it in contempt of court for ignoring a back-to-work order issued Saturday to striking correctional officers.
The judge said the union would pay another $250,000 if the strike did not end by noon today. Each additional day the workers are out will cost $500,000.
As for the workers themselves, Grant said that the province isn't looking to single them out.
"We're not seeking to seek retribution against individual members of the union," he said.
All staff ordered back to work
Striking prison guards, who walked off the job on Friday, were joined Monday by provincial sheriffs, probation officers, court workers and social workers, effectively shutting down court proceedings in Edmonton and Calgary. All other striking workers were ordered back to work by the Alberta Labour Relations Board on Monday night.
AUPE president Guy Smith said he met with Deputy Premier Thomas Lukaszuk late Monday for a "couple of hours" of productive discussions around some of the issues that prompted guards to walk off the job Friday in an illegal strike that's now into its fifth day.
Throughout the strike, Lukaszuk has denied there are any safety issues at the Edmonton Remand Centre, saying the dispute is more about guards "not liking their boss."
"There was animosity, and I think we had to cut through that, and sit down face to face and get to the bare facts of what we have to deal with," Smith said Tuesday morning.
Neither Lukaszuk nor Public Service Commissioner Dwight Dibben appeared at the Tuesday afternoon briefing. Dibben was scheduled to attend but was called away for unspecified reasons.
But government lawyer Dwayne Chomyn denied that any negotiations were going on behind the scenes.
"There are no negotiations going on. It has always been the government's position that the union follow the orders of the court and obey the law," Chomyn said.
"That doesn't mean that people don't have discussions to understand each other's positions."
However, in a news release sent late Tuesday afternoon, AUPE confirmed that they were in talks with the province.
Fines against union could go to $500K a day
Dozens of pickets remained outside the Edmonton courthouse, with more at the Edmonton Remand Centre this morning.
About 40 sheriffs were seen picketing at the Calgary Courts Centre earlier this morning, but left to meet a block away to decide what to do next. Court clerks held a separate meeting.
Despite a cease-and-desist order from the Alberta Labour Relations Board to end the walkout, pickets remained up past the noon deadline.
Smith expected to have more discussions with the government.
"Hopefully we can conclude those today," Smith said. "There still needs to be some work done on that."
Smith said the fines are the cost of doing business.
"It's costing the union money, but that's why we have a defence fund and that's why we stand behind our members who take action."