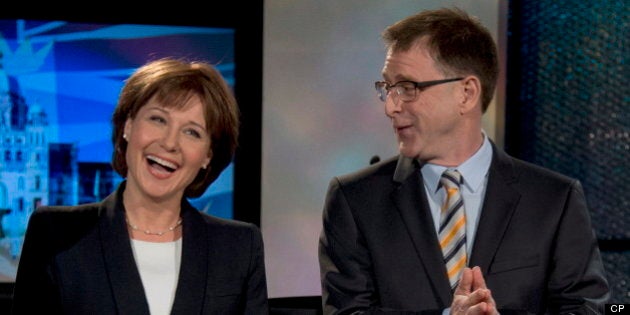 VANCOUVER - British Columbia's election campaign is at the midway mark and it's turning into a fact-checking exercise between Premier Christy Clark's Liberals and Adrian Dix's New Democrats.
The differences between the two major parties on jobs, revenues, budgets and economic visions have become increasingly apparent during the first two weeks of the May 14 campaign and the divides are expanding as the campaign enters its final weeks.
Story continues under gallery.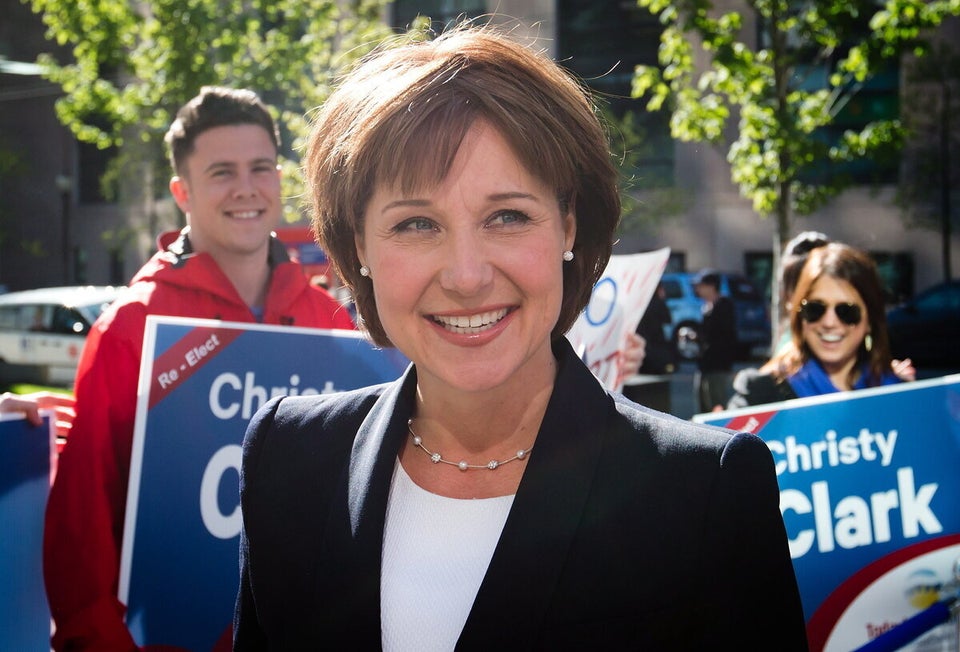 Clark and Dix sparred over budget and job-creation numbers before and after Monday's televised leaders debate and both weren't backing down on their visions.
"What we've done in the campaign is present a detailed substantive plan," said Dix at a news conference following the debate. "Obviously, the Liberal Party has great slogan writers and that will be a bit of the competition down the stretch, our facts, our policies against their slogans."
But Clark rejected debate comments that her government's forecast of a surplus budget next year is a fantasy that no one but Clark believes.
"Their strategy is to say, 'Well, gee, everyone's bad,'" she said. "The fact is we've worked very hard to control spending and we've worked hard to balance the budget."
The Liberals and New Democrats issued statements Monday night that their leaders won the debate.
"Adrian Dix was also wrong and misleading all night," said a Liberal Party statement. "So, let's just quickly correct the record: B.C. is creating jobs, unemployment is down, B.C.'s budget is balanced — one of only two provinces in Canada — and B.C. is training a record number of young people.'
The NDP countered with what the party said was a pivotal exchange in the debate with Dix suggesting Clark and the Liberals are running a "fact-free campaign."
"In this election, Premier Clark said her jobs plan created jobs when in fact B.C. has lost 34,800 jobs since she launched her plan," said the NDP statement. "Premier Clark said she has balanced the budget, when the province is running a $790-million deficit. Premier Clark said she is controlling government spending when she's in fact increasing the debt by $24.3 billion."
Clark said her jobs plan has created 32,000 jobs since it was launched in September 2011 and she said financial rating agencies have said the Liberals are on the right path to toward financial stability, with the forecast of a budget surplus of $197 million next year.
Clark said the Liberals are planning to reducing the debt through plans to promote economic growth, especially liquefied natural gas exports from northwest B.C.
"This election is about the economy and that we have a choice in this campaign between out of control NDP spending, higher debt and higher taxes that necessarily go with that," she said. "What we need to make sure to do is people are going to work."
Pointed questions and occasionally barbs were aimed at the four leaders during the debate, but answers were more elusive in exchanges that were at times fiery but usually civil.
Clark was attacked in the all-candidates television debate Monday night for everything from the Liberal government's decision to bring in the hated HST to her early morning decision to run a red light.
NDP Leader Adrian Dix was put on the spot over when his party would balance its budget if in government and how his party's plans for boosted skills and training would translate into jobs for British Columbians.
Green Party Leader Jane Sterk quizzed both Clark and Dix on their environmental policies, and Conservative Leader John Cummins trolled for votes by pointing out the Liberals weren't likely to win the election so casting a vote in his direction would send a message.
But the most hard-fought exchanges were between Clark and Dix, as they jousted over whose economic platforms were likely to leave the province in better shape.
The HST "damaged every business on the way in and on the way out," Dix charged, throwing out early the issue that did more than any other to damage Liberal fortunes in the province and prompted former premier Gordon Campbell to resign.
Clark responded that she had kept a commitment to give British Columbians a say in the matter and instead tried to focus the discussion on what the Liberals regard as an NDP platform that does nothing to create jobs.
The NDP has made skills training a focus of its platform, saying the Liberals have cut money for those programs.
"Instead of investing in skills training, the government has cut skills training," Dix said.
Retorted Clark: "In your plan, Mr. Dix, you're talking about training people and giving them the education they need to go find jobs in Alberta."
Clark touted her government's record, saying in the last two years it has done more than any other government in the country to contain spending. She said her party has a vision for how British Columbia will become debt-free.
"If you compare that to the out-of-control spending that the NDP is proposing for British Columbia, it's going to mean higher taxes, and it means we will likely never be able to balance a budget," she said.
"The NDP plan would rob Peter to pay Paul, hoping that Paul will vote for the NDP. My plan is to put both Peter and Paul to work so they can realize the great opportunities of this province, and they won't have to wait for government to give them a plan."
Dix shot back, suggesting Clark's jobs plan has been a failure, with the economy losing thousands of private-sector jobs rather than building them.
"Neither Peter nor Paul are working," he said.
Sterk suggested neither the NDP nor the Liberals were giving British Columbians the full picture.
"The B.C. Liberals have a fantasy budget that's based for the election, and I think the NDP has used that budget for the revenue numbers. We can't tell for sure because theirs is nothing more than a PowerPoint," Sterk said, acknowledging the Green Party likely won't form government but its MLAs would take a careful look at the province's books.
The debate also saw uncomfortable questions being asked of leaders that had little to do with government policy.
Cummins was grilled on his party's forced decision to eject four candidates from its ballot due to unacceptable online postings and a drunk-driving investigation in one case.
Dix was asked about his decision in 1998 to backdate a memo while he was a top aide to former premier Glen Clark. The memo was intended to show that Clark had distanced himself from discussions involving a casino application — an issue which later prompted police to raid Clark's house and later, force him to resign. Clark also fired Dix, a close friend.
"It was my mistake, I take responsibility and have ever since, " Dix said. "I was 35 years old and I made a serious mistake."
And Christy Clark was asked why she appeared to be incapable of rallying women to vote for her, and she was also questioned about her decision to run a red light, a move which she acknowledged again Monday was a terrible mistake and set a lousy example for her son.
"There is no other answer for the people of British Columbia other than to say it was wrong, I was wrong to do it," Clark said of treating the light as a four-way stop.