Security officials in Russia said Boston bombing suspect Tamerlan Tsarnaev disappeared during a trip to the province of Dagestan after the death of William Plotnikov last July.
Plotnikov — who was born in Russia but immigrated to Toronto with his parents as a teen — was killed in Dagestan, where he had travelled to join Islamic militants.
U.S. law enforcement officials have been trying to figure out if Tsarnaev was indoctrinated or trained by militants during his visit to the Russian province that has become a hotbed of Islamic insurgency.
A security official with Russia's federally run Anti-Extremism Centre, who spoke to the Associated Press on condition of anonymity, said the Russians share the American officials' concerns.
He said Russian agents were watching Tsarnaev during his six-month trip but he disappeared two days after Plotnikov's death.
In a separate report, Russia's Novaya Gazeta newspaper said security officials suspected ties between Tsarnaev and Plotnikov.
The newspaper added that two men had social networking links that brought Tsarnaev to the attention of Russian security services for the first time in late 2010.
The newspaper reported that Plotnikov had been detained in Dagestan in December 2010 on suspicion of having ties to the militants. During his interrogation, he was forced to hand over a list of social networking friends from the United States and Canada who like him had once lived in Russia, Novaya Gazeta reported.
The newspaper said Tsarnaev's name was on that list.
The Russian secret services, the FSB, then studied Tsarnaev's pages on social networking sites and asked the FBI for more information, the Russian newspaper said.
The FBI has acknowledged receiving the request. The U.S. agency said it opened an investigation, but when no evidence of terrorism was found and no further information from the Russians was forthcoming, the case was closed in June 2011.
Some similarities can certainly be seen between Tsarnaev and Plotnikov — both men were amateur boxers of roughly the same age whose families had moved from Russia to North America when they were teens. They also both turned to Islam, expressed radical beliefs and travelled to Dagestan.
What has not been independently confirmed is whether the two men actually communicated on social networks or crossed paths either in Dagestan or in Toronto, where Plotnikov had lived with his parents and where Tsarnaev had an aunt.
Toronto area boxing coach Boris Gitman, who trained Plotnikov for about three years when he was a teen, said his former student once had great potential.
"He was very good boxer," said Gitman "I promise to him, I said that he would be an Olympian, he was very talented fighter."
Things changed as Plotnikov grew older, said Gitman, adding that he stopped training consistently, drifted from club to club and lost interest in the sport.
Gitman spoke to Plotnikov's father on Monday but said the man didn't have anything to say about his son's potential links to Tsarnaev.
"We didn't talk about that," Gitman said, adding that Vitaly Plotnikov disagreed strongly with his son's radical views and rejected his pursuit of jihad.
"He's an honest man and he didn't support his son. He was angry," Gitman said. "He was very frustrated. He expects him to become an international class boxer in boxing. And he wanted him to become a good citizen and a good man."
Plotnikov was among seven suspected militants killed on July 14, 2012, during a standoff with police in the Dagestani village of Utamysh, according to the official police record.
After Plotnikov's death, Russian security agents lost track of Tsarnaev and went to see his father, in the capital of Dagestan, who told them that his son had returned to the U.S., Novaya Gazeta said.
The agents did not believe the father, since Tsarnaev had left without picking up his new Russian passport, and they continued to search for him, the newspaper reported.
The Russians later determined that Tsarnaev had flown to Moscow on July 16 and to the United States the following day, the newspaper said. Tsarnaev arrived in New York on July 17.
Russian migration officials have said they were puzzled that Tsarnaev applied for the passport but left before it was ready.
The Tsarnaev family had lived briefly in Dagestan before moving to the United States a decade ago. Both parents returned to Dagestan last year.
Tamerlan Tsarnaev and his younger brother Dzhokhar are accused of setting off bombs at the April 15 Boston marathon which killed three people and injured more than 260 others.
Tamerlan Tsarnaev died while trying to escape from police days later. His brother is currently in custody.
The Islamic insurgency in Dagestan grew out of the fierce fighting between Russian troops and separatists in neighbouring Chechnya that raged in the 1990s. Attacks now are carried out almost daily in Dagestan against police and security forces, who respond with special operations of their own to wipe out the militants.
— with files from The Canadian Press.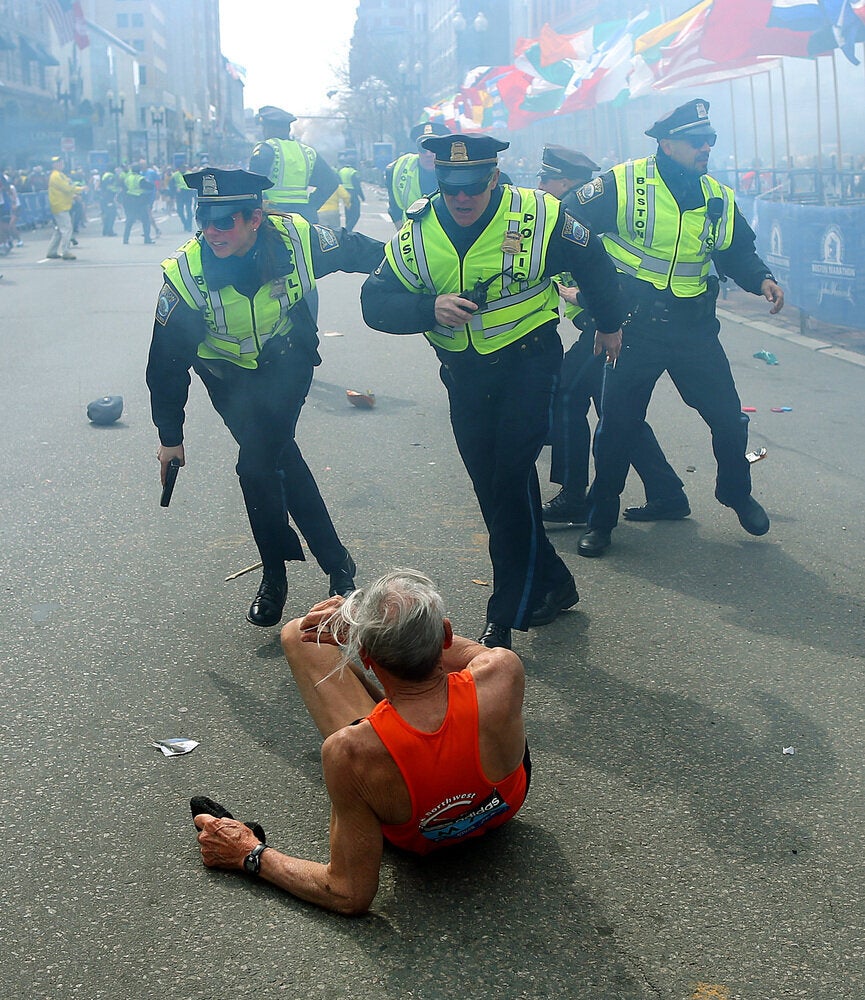 Boston Marathon Explosion (GRAPHIC PHOTOS)