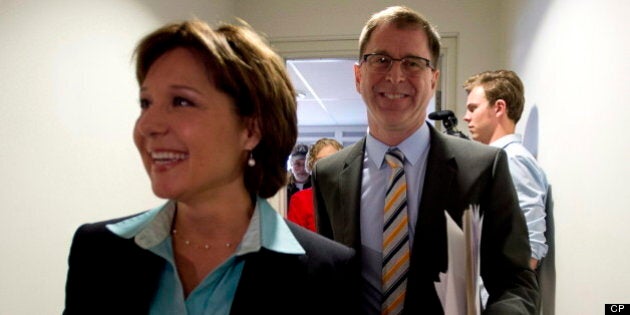 Expectations were high for the only televised leaders debate of the B.C. election campaign, but Monday night's 90-minute hustings failed to produce the knock-out punch pundits and voters were hoping for.
The stalemate showed in an overnight poll conducted for News1130, which found 31 per cent of B.C. voters thought NDP leader Adrian Dix had won the night, with 28 per cent awarding the gong to Christy Clark, and 26 per cent seeing no clear winner.
Poised and telegenic as ever, BC Liberal Leader Christy Clark was the most at ease in front of the camera, but with her party trailing in the polls, she needed to score a big win to have a shot at knocking the NDP's hold on voters.
Her mea culpa was straightforward - "There is no answer other than to say I was wrong to do it" – but may not have been enough to erase the memory of her initial brush-off to the press that it was "5:10 in the morning", Vaughn Palmer reported in The Vancouver Sun.
Apart from giving Clark kudos over her shot at BC Conservative Leader John Cummins over his candidate–screening debacle, Palmer came down hard on the Liberal leader's performance. "if she had anything new to say about the Liberal plans for a fourth term, it didn't show up on my notes," he wrote.
Dix, though clearly nervous to begin with, settled down quickly. He was well-prepared, said The Globe And Mail's Gary Mason, who felt Dix won the evening on points. "He knew his stuff – which is his strength. He never seem rattled and, in fact, did a good job of putting Ms. Clark on the defensive on big issues such as the economy and debt", Mason wrote.
Story continues under poll.
The Liberals and New Democrats issued statements Monday night that their leaders won the debate.
"Adrian Dix was also wrong and misleading all night," said a Liberal Party statement. "So, let's just quickly correct the record: B.C. is creating jobs, unemployment is down, B.C.'s budget is balanced — one of only two provinces in Canada — and B.C. is training a record number of young people.'
The NDP countered with what the party said was a pivotal exchange in the debate with Dix suggesting Clark and the Liberals are running a "fact-free campaign."
"In this election, Premier Clark said her jobs plan created jobs when in fact B.C. has lost 34,800 jobs since she launched her plan," said the NDP statement. "Premier Clark said she has balanced the budget, when the province is running a $790-million deficit. Premier Clark said she is controlling government spending when she's in fact increasing the debt by $24.3 billion."
Clark said her jobs plan has created 32,000 jobs since it was launched in September 2011 and she said financial rating agencies have said the Liberals are on the right path to toward financial stability, with the forecast of a budget surplus of $197 million next year.
Clark said the Liberals are planning to reduce the debt through plans to promote economic growth, especially liquefied natural gas exports from northwest B.C.
"This election is about the economy and that we have a choice in this campaign between out -of-control NDP spending, higher debt and higher taxes that necessarily go with that," she said. "What we need to make sure to do is people are going to work.
Green Party Leader Jane Sterk quizzed both Clark and Dix on their environmental policies, and Conservative Leader John Cummins trolled for votes by pointing out the Liberals weren't likely to win the election so casting a vote in his direction would send a message.
With files from The Canadian Press.