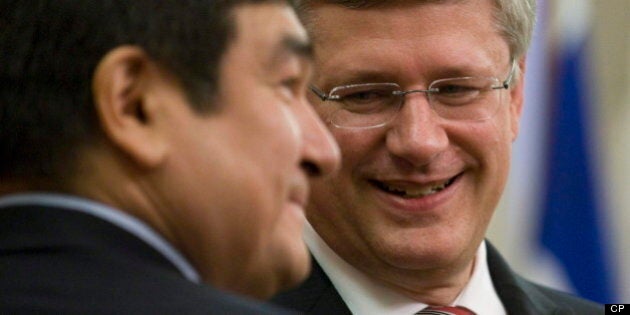 Stephen Harper seems poised to lose a Tory seat in a byelection for the first time, as another poll shows former cabinet minister and Conservative MP Peter Penashue trailing in his bid for re-election in Labrador.
The survey, conducted by Forum Research and released by Sun News, interviewed 427 Labradorians on April 24 via interactive voice response. It found Yvonne Jones, the Liberal candidate, with 60 per cent support. Penashue was far behind with 29 per cent, while the NDP's Harry Borlase brought up the rear with 10 per cent.
As many as 40 per cent of people who said they voted for Penashue in the 2011 federal election now say they will vote for Jones on May 13. The New Democrats have also shed some support, as a quarter of their voters from the last election are also going over to the Liberals.
If there is a silver lining for Penashue, it is that he does seem to be gaining a little ground. Both Forum and Abacus put him at 20 per cent in the previous polls, and his gain of nine points is outside the margin of error (as is Borlase's drop of 11 points since Forum last reported). But he is still leagues behind Jones, and has no hope of winning if he is unable to put a dent in her support.
And her support is relatively uniform: Jones leads among all age groups and income brackets. Both the most recent Abacus poll and this new survey show Jones to have greater support among women, and Borlase to be doing best among younger Labradorians (who may be unlikely to vote).
The campaign has certainly been a controversial one. Penashue has banked on the influence he can bring to bear in cabinet as the best reason to be re-elected, but his claims have not come without criticism. He said he held up a project on the island of Newfoundland in order to get more for Labrador, something that the provincial government has not confirmed but has denounced as inappropriate for a federal minister responsible for the entire province. He has also claimed that he was partly behind the decision to upgrade Coast Guard facilities in the riding, the veracity of which a Newfoundland Liberal MP has questioned.
If Penashue does lose the byelection, Justin Trudeau will kick-off his leadership of the federal Liberals with a big victory — though Labrador is traditionally one of the safest Liberal ridings in the country. Trudeau was in Labrador just last week to give a boost to Jones' campaign (but considering these numbers, she may not have needed it).
Luckily for the prime minister, his first defeat in a byelection as leader of the Conservative Party may be overshadowed within 24 hours, when British Columbians head to the polls in an election that will likely end the B.C. Liberals' 12 years in power.
Of course, the choice of date for the byelection was entirely coincidental.
Éric Grenier taps The Pulse of federal and regional politics for Huffington Post Canada readers on most Tuesdays and Fridays. Grenier is the author of ThreeHundredEight.com, covering Canadian politics, polls and electoral projections.