 What do you do when you find a nesting goose and her aggressive mate are taking up eight parking spaces in your parking lot?
If you're smart, like the folks over at Medicine Hat College, you give them a wide berth and let them be.
A female Canada goose has built herself a nest in a parking lot of the southern Alberta college, while her male partner has taken it upon himself to keep humans far back.
"The gander was guarding his territory physically and vocally," Melinda Arthur, director of facility operations, told Medicine Hat News Tuesday.
Staff at the college have cordoned off an area for the nesting mother, blocking off eight parking stalls and putting up special signs describing the situation.
When asked why the goose didn't get the boot from the lot, Arthur told the National Post, "Well, we do want to provide a place that is nature-friendly. And we're not interested in upsetting the natural order of things. Not that we have a firm policy in practice; we'll deter a goose from nesting somewhere but we won't actually kick her out."
While the male goose poses a small threat to humans - he's been hissing and spitting at those who get too close - Arthur explained that it may be against the law to upset the nesting bird (she's right), so the geese will be left alone until they choose to leave.
David Humphrey posted a photo of a goose, with a caption that reads "Students pay $185 a year and get one stall. I'm a goose and I get 8 stalls for free."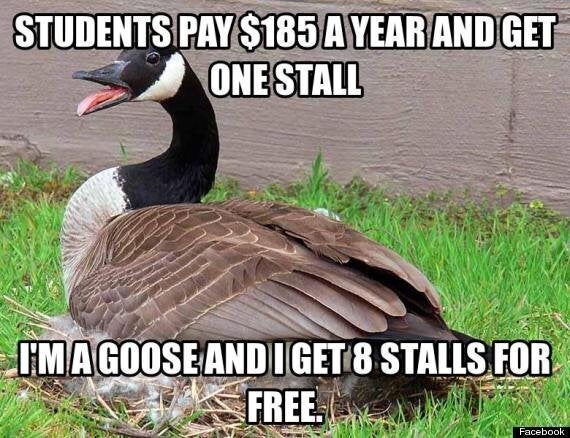 According to their Facebook page, the mother goose has affectionately been called "Gilda."
This bit of bright goose news follows a sad duck tale out of Alberta earlier this week. An annual livecam set up by the Edmonton Journal, capturing a goose who returns to a farm outside Edmonton each year to nest, had to be turned off over the weekend, after strong winds scattered the nest and destroyed the eggs.
"A sudden gust of wind blew over the 800-pound straw bale the goose had nested on," said Bruce Edwards, a Journal photographer who oversees "Goosecam."
"The nest and eggs fell to the ground."
Check out the gallery below for some crazy goose attack videos