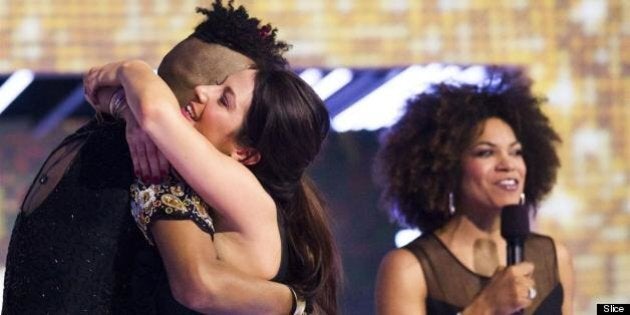 After the "Big Brother Canada" finale, the contestants gathered in the backyard of the "Big Brother Canada" house (which is really just a studio) for press interviews.
Some contestants were eager to talk about the controversial finale vote, where Topaz accidentally voted for Jillian instead of Gary, thus ensuring the Nova Scotia native victory over the flamboyant Torontonian. Other contestants didn't speak to the issue (Danielle and Suzette), while others quickly left the backyard (Topaz).
(Ed. Note: Topaz completed one interview with another publication, then began to cry and shake. Her publicist escorted her out of the yard, and there were no more interviews.)
HuffPost Canada TV managed to speak with the rest of the contestants. Most were upbeat, but some were downright mean about the whole controversy. Here's what they had to say about Topaz's vote mishap.
Talla: "I think, what happened with Topaz ... I don't know what to tell you other than I'm happy that Jillian won. That's drama for you. It's just how it works in the 'Big Brother Canada' house."
Alec: "Well, we had a secret jury alliance. We were working on getting A.J. to vote for Gary (which he did), and then we could wash our hands of any wrongdoing we did to Gary. But ... something went wrong there."
Peter: "As I said before, I wanted to put my keycard in to prevent any injustice. I believe there was a very large injustice done [finale night]. Gary should have won, but Jillian did, and that's the way it goes."
Andrew: "People are going to say, 'Why did Andrew complain about Gary coming back [into the house]?' Try imagining my situation, when I'm in the final four and they bring someone else back in. Gary's a great guy, and I feel bad for him now, but that's the way this competition goes."
Tom: "It looked so good on Topaz, because that girl, you know what? It's poetry. The only time she has to be awake in the game and she puts in the wrong key. That cost the guy $80,000, a car and a shopping spree. Wow. Oh, but they're good, right? They're besties, right?"
Liza: "Sweet victory. Justice is served, bitch! Topaz was a rat in that house and she just got f**kin' trashed."
Gary: "Everything happens for a reason. I'm very positive. Look up, not down."
Kat: "Holy crap. Holy s**t. It's unfortunate, but you have to look at the silver lining. Everyone will benefit from this happening."
Aneal: "Rules are rules."
A.J.: "My heart goes out to Topaz, and I got to know Gary a lot better in the jury house. Some people are saying he should have won, but I don't know. That isn't to knock Jillian, though -- she's a great lady, she played strong and won a lot of competitions. It is what it is."
Emmett: "Gary will always be #8 to me. I couldn't be happier for Jill. I believe she truly deserved the win, and if she didn't it would have been because of a bitter jury. It's meant to be and I couldn't be happier with the results."
Jillian: "It was so crazy and surreal, and I feel really, really, really excited about winning! I'm going to pay off my student loan and put down a mortgage on a house. I'm so boring! [Laughs] I'm glad Emmett is happy for me, but I'm also sad he didn't win."