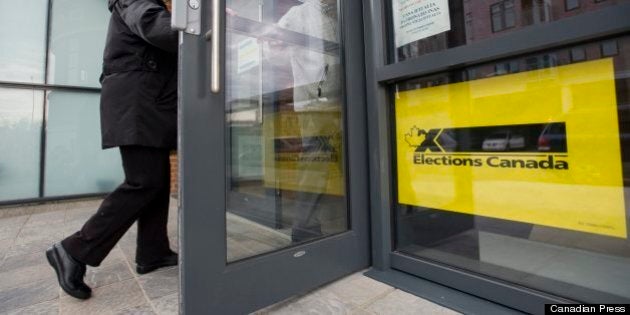 Elections Canada wants to avoid the procedural errors that plagued the last election, but the changes will likely cost money and require political will.
An independent report commissioned by Elections Canada found a pattern of serious errors in voting procedure during the 2011 general election. It said that election officers made over 500 serious administrative errors per riding on voting day.
Elections Canada has endorsed the report and proposes making significant changes in the voting system. Changes could include special staff to handle the 15 per cent of voters who lack ID or aren't on the voters' list, and taking a "bank-teller" approach for everyone else, letting voters line up for the next table polling table that's free.
The changes would include "new voting procedures, instructional materials, training methods and content, materials and supply requirements, human resource and financial management procedures, management information collection, and IT support systems."
Elections Canada is facing a permanent eight per cent budget cut and says it hasn't yet done a cost analysis for the reforms.
Jean-Pierre Kingsley, the former head of Elections Canada, believes the changes will have a pricetag. The establishment of a national list of electors, a constantly updated and computerized list of millions of names and addresses, would likely cost over $20 million, he has estimated.
Elections Canada wants to start a pilot project to test the reforms, and have new system in place for the 2019 election, but that would require Parliament's approval.
'A culture of service'
The report also identified a "culture of service" among the thousands of temporary workers hired to work on election day.
"This ethos can lead members of the public, who temporarily become election officers, to do everything they possibly can to ensure that every person who shows up to vote gets a ballot to mark," the report said, adding that the elderly and those in Canadian Forces uniforms were more likely to get ballots.
"You've got a couple coming in. He's in a walker, they're both in their mid-'80s, and they've got to go half a mile to vote, and you say, what the hell," said Joe MacDonald, a public affairs consultant who's run many election campaigns for the NDP, and says elections workers are reluctant to make old people, who show up at the wrong voting place, travel to another poll.
MacDonald added that people often work on election day because it's a social event. Or worse, he said, "There are the folks that get assigned to a poll in a polling place and either don't show up and don't let anybody know, or call the poll manager the night before and say 'I'm not going to be there.'"
To improve the professionalism of election workers, the report suggests a supervisor in charge at every voting site with the power to ensure polling staff comply with the rules. About 20,000 of these new hires would be needed, a request Parliament would have to approve.
Political parties get lists
Adding to Elections Canada's workload on voting day are the extra duties that have been imposed by political parties. A list of voters who have cast ballots must be given every half hour to campaigns so political parties can track who has voted.
Kingsley says he fought this requirement at parliamentary committee. "This was an additional burden. We estimated you had to be able to hire extra staff in order to do that. I asked for extra staff, one person per polling place, but the system said no."
Elections Canada is further hamstrung by the right of political parties to nominate the top two workers in each poll. The parties end up supplying only 30 per cent of their allotment, and Elections Canada has to scramble to recruit the rest during the week before voting day.
The report recommends the practice of allowing political parties to nominate the two election day staff be stopped
The Minister of State for Democratic Reform Tim Uppal abruptly withdrew a bill on electoral reform he was about to table in Parliament last week. On Tuesday, Prime Minister Stephen Harper said a new bill would incorporate changes specifically in response to Elections Canada's independent report on procedural errors.
Kingsley, who ran Elections Canada for 17 years, doesn't believe Parliament will balk at making changes. "No, they will not resist. No one wants to be associated with an election where there's a large number of discrepancies. No one. The winning candidate is not happy, the losing candidates are not happy, Canadian people are not happy. We simply need to solve this matter."