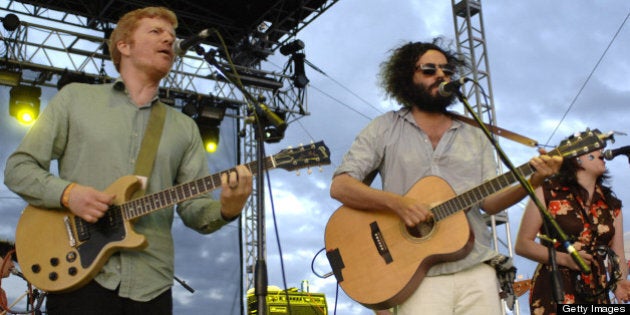 Here's a little-known fact about The New Pornographers: Parliament Funkadelic once kinda opened for them.
"We played this jam band festival a few years ago. It was somewhere a couple of hundred miles outside of Chicago," recalls Pornos main man/solo artist/indie rock community pillar Carl Newman. "And for some reason, they put us on the main stage on the final night of the festival, right after Parliament Funkadelic. So, as far as everyone at the festival was concerned, the night was over. We just had to laugh. Like, this is absurd. Why would they put us on after them?
"And also, why were we playing a jam festival?" he continues, clearly still perplexed about the misadventure. "It was one of those festivals where there was, like, a jam band would play four different sets. Like, The String Cheese Incident would play four two-hour sets over the weekend. One of those."
After an experience like that, the prospect of playing on Red Bull's whimsical new tour bus — an amalgamation of old-school bus parts and a fancy new chassis that converts into a stage and sounds like something straight out of a "Top Gear" challenge — this Saturday in Vancouver as part of Red Bull's Hometown Tour doesn't really seem that odd or daunting.
The New Pornographers cast features the likes of Newman, Neko Case, Dan Bejar (Destroyer) and Kathryn Calder often forming up like an indie rock Voltron. Newman's only concern is fitting the all of the band's ragtag characters on the bus/stage together.
"I hope the stage is big enough," says Newman. "They said they would expand it for us, which made me wonder... how small is the stage? We've played small stages before, so it couldn't be the smallest one we've played."
For Newman, the bigger challenge will be getting his head back into the Pornographer's back catalogue after spending the past couple of weeks writing and working on material for the band's next album.
Story continues after slideshow
"It's weird to play a show when you've just started another record," he explains. "You're in this next record and all of those songs are on your mind but you can't play them for people. They're just not finished. Maybe some of them are finished. But especially in this day and age you don't want to play a song live if it feels half-formed because somebody's going to film it and then put it on the internet. So I feel like you have to be careful in that respect."
Even though he's not ready to share the new material yet, he's genuinely excited about it.
"We've got about 18 songs on the go now and when I look at this batch I feel I'm as happy about it as I've ever been about a new group of songs. I have no perspective, but I feel really good about it. I'm pretty psyched."
According to Newman, his own contributions to the new New Pornographers release should represent a marked departure from his recent solo album, 2012's serious and personal "Shut Down The Streets."
"I think in the past there's been a grey area between solo and Pornographers. And I think with that solo album and this new record there's going to be a very pronounced difference," he muses.
"On 'Shut Down The Streets,' I was trying to play a very specific kind of song and I wanted to make a specific kind of record. It was a much more personal record, so it was not as weird. Because a lot of the themes were about losing my mom and my son being born and all of those feelings. It felt somehow like it needed to be a bit more straight ahead.
"I look at the way I worked on that record and I look at the way we're working now on The New Pornographers record and I don't think they're going to be anything alike. I'm trying not to have a single ballad on this record," Newman promises. "There's going to be some songs that are a little more mid-tempo than others, but I don't think there's going to be anything you could call a ballad."