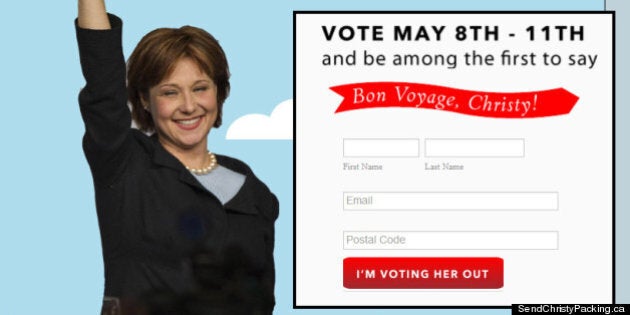 An attack website produced by a prominent B.C. labour group is urging voters to head to the polls early to vote Christy Clark out of office.
The BC Federation of Labour has registered the site Send Christy Packing, which asks visitors to be among the first to vote the Liberal leader out of office during early polling from May 8 to 11.
The site says that 1,000 early votes will get Clark a new luggage set; 2,000 early votes will help send a U-Haul to help her move; 4,000 early votes will get her a ticket on BC Rail; and 10,000 early votes will allow her opponents to "start the party early!"
Users can write their names and e-mail addresses down on the site and then tweet or Facebook their early votes, should they choose to.
The attack site is hardly the first of its kind. In December 2011, the B.C. Liberals set up RiskyDix.ca, an attack site focused on NDP Leader Adrian Dix, who was elected leader in April of that year. The site shoehorned Dix as a key player in an NDP government that oversaw lagging job growth, high income taxes and the departures of 50,000 people from the province. The site is no longer available online.
Prior to that, the Liberals set up an attack site against B.C. Conservative Leader John Cummins, accusing him of being an unprincipled politician who did not support a minimum wage increase while collecting a sizable public pension, CBC reports.
But attack sites haven't just targeted party leaders. Elections BC investigated an attack site against New Westminster independent candidate James Crosty, which showed pictures of him alongside Clark and former premiers Gordon Campbell and Bill Vander Zalm, The Tyee reported. The site, jamescrosty.com, is no longer available online.
In a more positive move, the B.C. Liberals launched #AskChristy, a site where Clark answers questions either through written or video answers.
Visitor Shane Loughran asked Clark whether her party would support bringing WWE Wrestlemania to BC Place Stadium. Clark didn't answer directly in a video response, but said the government "should be bringing more of those events to Vancouver."