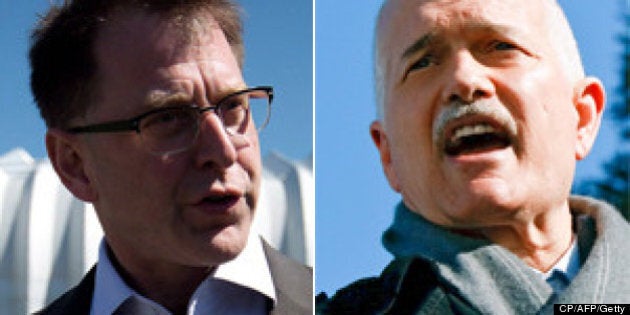 VANCOUVER - He died almost two years ago, but every day in British Columbia's election campaign Jack Layton seems to make some kind of appearance, whether it be in a stump speech, a ghost-like moment or a question, reflection or thought from a voter.
It's almost as if he's sitting there on the campaign bus watching things unfold.
The federal New Democrat Party leader died in August 2011, but his presence, influence and legacy are part of the provincial campaign that has Adrian Dix's B.C. New Democrats pressing ahead in what is becoming a tightening race with Christy Clark's Liberals.
"Do any of Jack Layton's beliefs carry on in you?" a Kamloops high school student asked Dix during an impressive classroom gathering where he faced a wide range of questions that included his thoughts on teen abortions.
Dix, who speaks regularly about Layton's political legacy in his campaign speeches, tells the student he didn't know Layton well personally, but was greatly influenced by his political style.
"Here's what Jack did that I'm trying to do," said Dix. "What he did, I think, in his life and campaign was he refused to be negative about other people."
Dix said the Liberals have attacked him personally prior and during the campaign, but he's held off, just like Layton did.
("Christy Clark) she's a good person," he said. "I'm not going to run her down in television ads. That belief about Jack Layton that you say what you believe and that you don't run other people down to do it, that's at the core of what we're trying to do here."
Dix tells the student it took Layton four elections before the 2011 result that saw the NDP sweep Quebec and become Canada's official Opposition.
"And just as he broke through, of course, he passed away. It was very really tragic."
Dix regularly mentions the Layton legacy and political accomplishments at his nightly rallies — tying his message to Layton's achievements.
"What Jack did is what we need to continue," Dix told a Vancouver audience at the start of the campaign. "That idea that politics, which is to make it more open, more generous, to bring people in, all the people in this room and beyond this room.
"When people say to me, as they frequently do in the media, you can't win by not responding to vicious personal attacks, I say, 'Jack Layton did.'"
Anne McGrath says she can feel Layton's presence in the Dix campaign.
McGrath worked with Layton for more than a decade, as one of his NDP leadership chiefs and also as his chief of staff in Ottawa. She is working on the Dix campaign and is a regular passenger on the campaign bus.
McGrath said the national outpouring of emotion towards Layton after his death still touches her.
"It's even hard to believe that it's been a few years since he died," she said. "He was kind of larger than life in a lot of ways. I saw the way he resonated with so many people over the years, but particularly on the campaign trail in the last federal election. He really touched a nerve with people. He had an approach to politics that I think people were thirsty for."
McGrath said Dix's decision to run a campaign on ideas, policies and debates rather than personalities and attacks is Layton's style.
"He was tough for sure, but he was tough on the issues and the different vision and not on the personalities, and I think that's what Adrian is doing as well," she said.
McGrath said she still can't help getting emotional about Layton, especially as the B.C. campaign enters its stretch run.
"Every day. Every day. Every day I think about him," she said. "Man, I miss him and yes, all the time."
Vancouver-False Creek NDP candidate Matt Toner — whose business background as a high-tech entrepreneur and former Bank of Canada executive gives him more of a Liberal pedigree than New Democrat — said it was meeting Layton that convinced him the NDP was where he should be.
"I heard him speak and I talked to him afterwards and it was kind of love at first sight because I got it," said Toner. "I got what he was trying to do. It seemed like within that party there was a place increasingly for people like me."
University of Victoria political science Prof. James Lawson said the Layton legacy continues to gather momentum because of his sudden and tragic departure from the political scene, but also because for left-of-centre Canadians he was able to build a united social democratic movement that included social activists, unions and free thinkers.
"Above all, he was someone who didn't sound angry all the time," he said.
Layton's final message to Canadians was: "My friends, love is better than anger.
Hope is better than fear. Optimism is better than despair. So let us be loving, hopeful and optimistic.
And we'll change the world."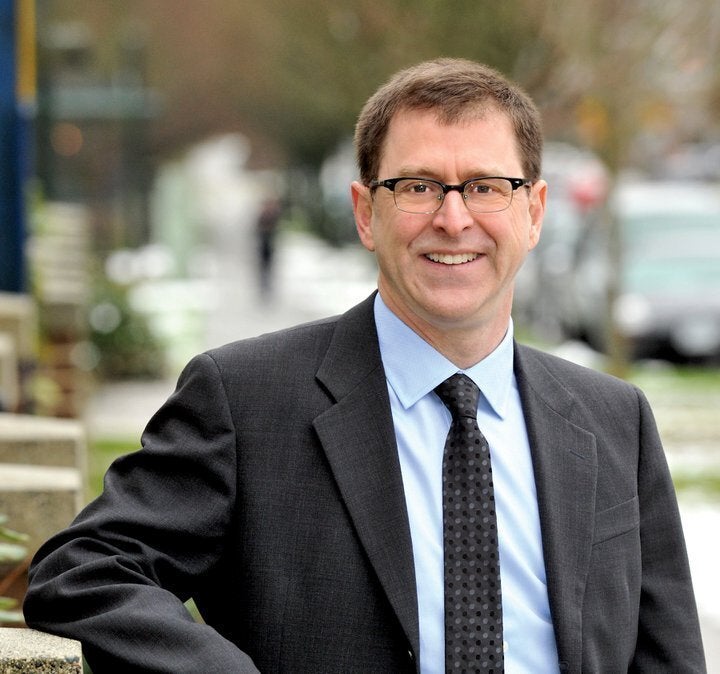 Adrian Dix: 5 Things To Know