Those were the words of Don Cherry, who called out Gillis during Wednesday's Coach's Corner segment on Hockey Night in Canada.
"If the GM [Gillis] had any guts he would have traded [Schneider] before [the deadline] but he didn't have any," Cherry told viewers. "Now, what are you going to get for him? You're not going to get that much for him."
Schneider started two of Vancouver's four games in a first-round playoff series against San Jose and posted a 4.62 goals-against average and .880 save percentage. In 30 starts during the regular season, he had a 2.11 GAA and .927 save percentage.
Roberto Luongo, who was on the trade block all season, appeared in 20 regular-season contests and had a 2.56 GAA and .907 save percentage. He was equally effective in the playoffs with a 2.57 GAA and .915 save percentage.
'Small fortune'
On Wednesday, Cherry said Gillis could have netted "a small fortune" for Schneider, who won six of eight starts leading to the trade deadline.
"I like Schneider, don't get me wrong, but he's never done anything in the playoffs," said Cherry of the netminder's 1-2 combined win-loss record over eight games in the 2011 and 2012 playoffs. Schneider, though, did sport a 1.91 GAA in that time.
"You're not getting rid of [Roberto] Luongo's contract [which has nine years remaining with an annual salary cap hit of $5.333M US] so trade [Schneider] then."
When Cherry was coaching the Boston Bruins, he said Bruins GM Harry Sinden made "the trade of trades" on Nov. 7, 1975 when he shocked the hockey world by sending Phil Esposito and Carol Vadnais to the New York Rangers for Brad Park, Jean Ratelle and minor leaguer Joe Zanussi.
Esposito had won the NHL scoring title five times and twice had finished second including the previous campaign while Park was considered the league's top defenceman next to the Bruins' Bobby Orr.
But both teams were struggling early in the 1975-76 season, so Sinden and Rangers counterpart Emile Francis pulled the trigger. Boston would advance to the Stanley Cup finals in 1977 and '78, losing both times to Montreal.
"We clicked along at a .658 [winning] percentage and we almost won the Stanley Cup twice because he [Sinden] had guts. [Gillis] did not have guts in Vancouver.
"They [Canucks] did pretty good in the regular season but they weren't clicking," added Cherry, after San Jose completed a four-game sweep of Vancouver on Tuesday. "It looked like the players, to me, were always looking for the other shoe to drop. And now they're going to blame [head coach Alain] Vigneault?"
Grapes said Vigneault "is a good coach" and shouldn't be fired.
Faceoff gaffe
Cherry also sounded off about the Canadiens' 3-1 series deficit to Ottawa, which pulled out a 3-2 overtime win in Game 4 on Tuesday after trailing 2-0 in the second period.
In particular, Cherry was miffed by a call from the linesmen in the second period that saw a faceoff incorrectly take place to the right of Montreal goalie Carey Price.
Canadiens coach Michel Therrien had put left-handed centre David Desharnais on the ice for a draw he thought would be to Price's left. Shortly after, the Senators' Mika Zibanejad scored to make it 2-1 and Cory Conacher drew Ottawa even with 23 seconds remaining in the period.
"I would go nuts [at the missed faceoff call]. They were rolling along," Cherry said, noting Therrien was seething on the Montreal bench.
"That's the series. You could just see [the Canadiens players] go down after that. You're not going to beat [Senators goalie Craig] Anderson three games in a row. Four [officials] on the ice, [the faceoff] should have been on the other side]."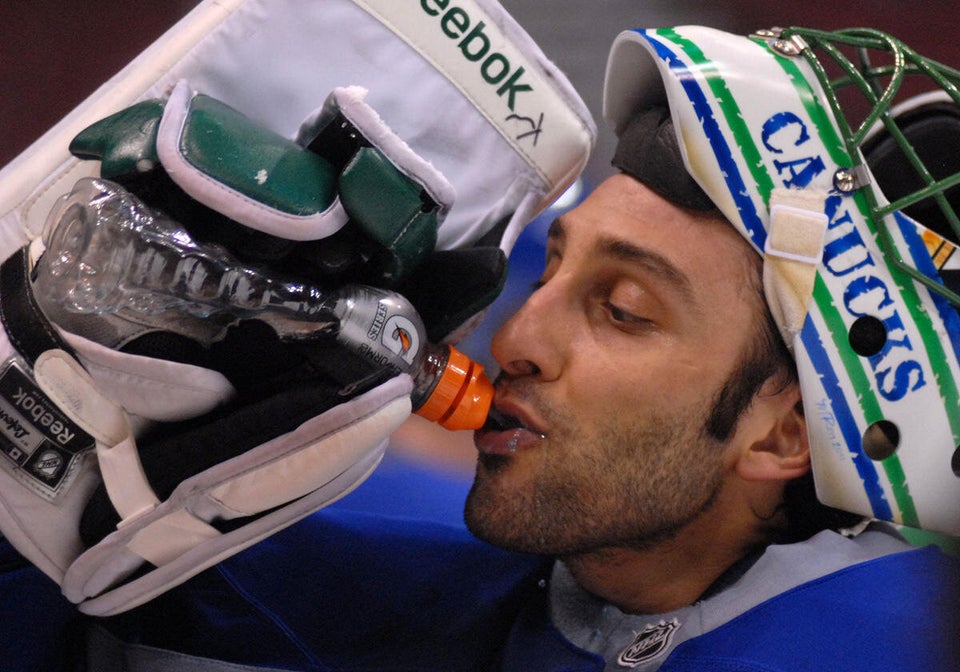 Vancouver Canucks Players 2012/13