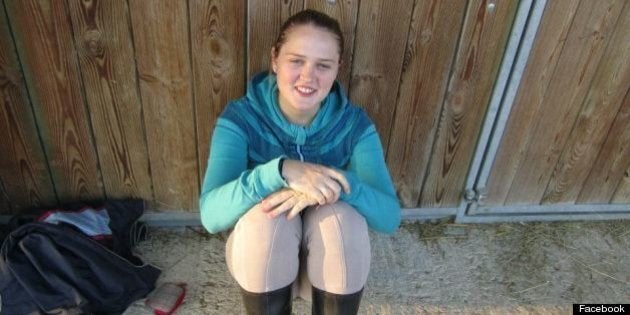 The father of a teenager who died while running the Toronto marathon says his daughter died of an anatomical heart abnormality that is rarely detected.
Steven van Nostrand said a coroner determined the stress of the late stage of the marathon caused an artery to constrict, to the point that his daughter's heart stopped.
Emma van Nostrand, 18, collapsed just a few kilometres from the finish line during Sunday's marathon. She died later in hospital.
- Spectator saw Toronto marathoner, 18, collapse before dying
Her father spoke with the coroner Tuesday afternoon. He said the family was comforted to learn the abnormality was not genetic.
"One of her major arteries is not at the normal angle coming in through the heart," said van Nostrand. He said increased stress levels would cause the arteries to close off.
"It's something that's both very hard to revive a person from that situation even if you're in a hospital, you can't always revive them. Also it's sudden and unpredictable and nothing you can easily test for."
The coroner told van Nostrand that the abnormality made Emma a "walking time bomb" and something as simple as walking up stairs could have caused her death.
School to pay tribute
Emma was set to graduate from Riverview High School in Cape Breton next month. Grief counsellors were sent to the school to help her friends on Monday.
Her family met with the principal Tuesday afternoon and learned that the school will still award her diploma and honours certificate.
"They actually postponed honours night tonight until next week," said van Nostrand. "Emma's siblings — her brother and two sisters — are going to accept it on her behalf."
Van Nostrand said several businesses have also come forward and offered to establish a scholarship at the high school in his daughter's memory.
Classmates described Emma as an athlete who played on the soccer and basketball teams. Her parents are both runners.
The race was Emma's first full marathon. Her mother was also participating.