Left with bruises and a terrifying video, a Vancouver photographer is lucky to be alive after he survived getting hit by a bus on Tuesday.
Mark Jarder, 23, was waiting to turning left at a busy intersection during a stale yellow light when he was hit by an oncoming TransLink bus. The incident was captured on a GoPro camera mounted to the helmet Jarder was wearing at the time.
According to Jarder, he noticed the bus in the distance and "didn't give it much thought." He decided to go for the turn after a cautionary scan for pedestrians.
"What I didn't expect was the bus to actually speed up and change lanes. It tried to beat the light," Jarder told The Huffington Post B.C.
The collision with the 99-B-Line bus can be seen at the 0:10 mark in the video. The hit forced Jarder's red scooter to swerve into the traffic median and caused him to fly approximately six meters into the air before he hit the ground.
"The bus hit the scooter, not me directly. That's why I'm alive," he said.
The footrest on his $2,000 scooter was split in half, he said. He has no plans to hop back on another anytime soon.
Reports have been filed with the Vancouver Police Department, Insurance Corporation of British Columbia and TransLink.
"They will take a look at not only the video that was posted on YouTube, but also on video that was onboard the bus as well," said TransLink spokesperson Derek Zabel to CKNW.
Miraculously, Jarder avoided broken bones or any internal organ damage. He did suffered second- and third-degree road rashes to his arms and back and bruising. He credited his "almost instinctive" breakfall to the Internet.
"I'm just one of those guys who've seen too many of those parkour videos," he said.
LOOK: Mark with two paramedics who stayed with him until a room freed up at Vancouver General Hospital: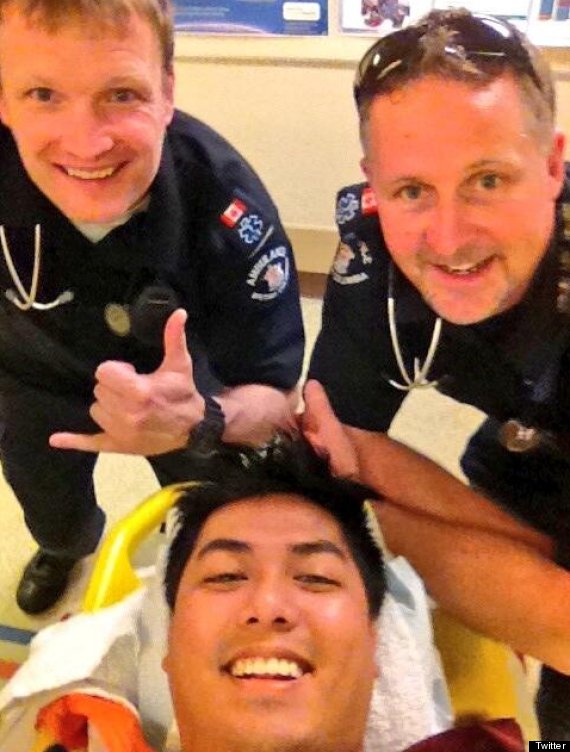 Also on HuffPost
The Internet Saved My Life